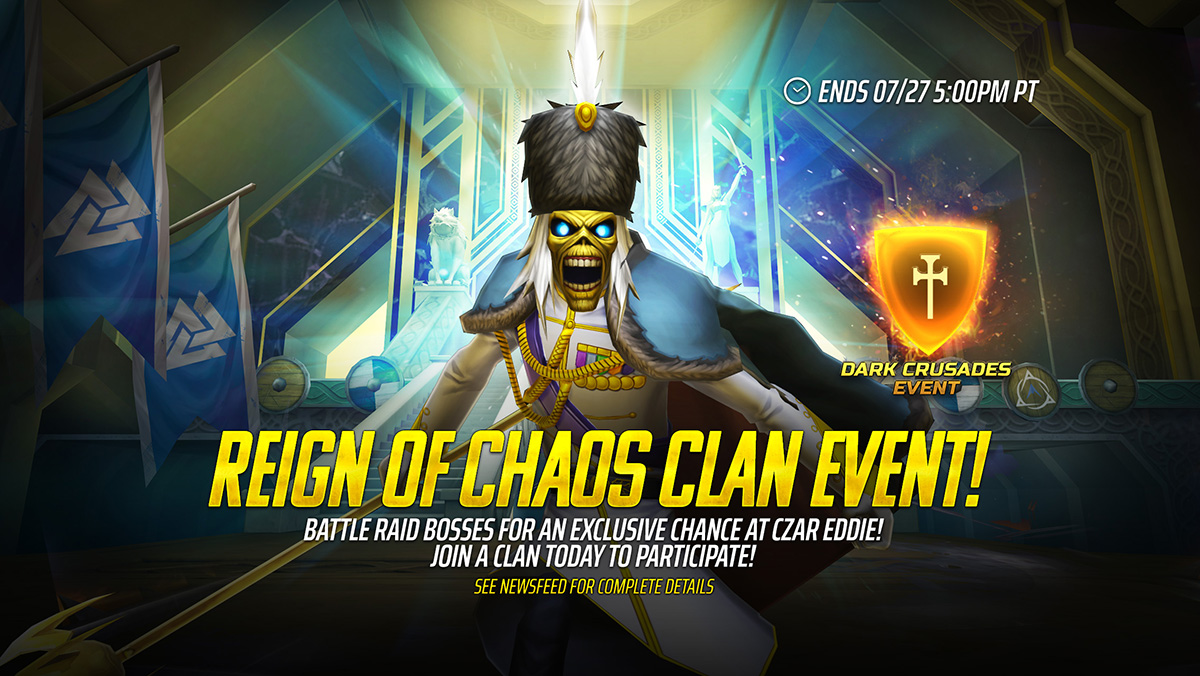 20 Jul

Reign of Chaos – Battle Raid Bosses for an Exclusive Chance at Czar Eddie!

Kneel before your Czar!

Czar Eddie is a 5★ Magus who is the fully skill sharded special edition version of Edward the Great. He comes armed with the A Czar's Life passive, replacing the regular Edward the Great's fury attack.

Get full character details in the Compendium

From now until July 27th at 5PM PDT, complete Clan event challenges in Raid Boss to earn rewards such as Clan God Soul Fragments, Trooper Awakening Shards, Martyr Fragments, Emperor Fragments and more!

In order to participate and earn the rewards from the Reign of Chaos event you MUST be a member of a Clan. If you are not a member of a Clan then you will not see any event challenges or receive any event rewards for Reign of Chaos.

Be sure to encourage your Clan to participate! The more active members in your clan the better your chances are for the completion of these event challenges.

Emperor Soul Details!

Collect 200 Emperor Fragments to create 1 Emperor Soul.

The Emperor Soul is a limited time event soul which guarantees a 3★ to 5★ character of any class, and has a 2x chance of summoning non-exclusive 5* characters. This Soul also provides an exclusive chance of summoning Czar Eddie, and an increased chance of summoning Edward the Great.

Each Emperor Soul summoned will also grant the following bonus rewards:
10 Czar Eddie Soul Fragments
20 Talisman Gold Red Soul Fragments
Collecting 750 Czar Eddie Soul Fragments guarantees one 5★ Magus Czar Eddie!
400 Talisman Gold Red Soul Fragments guarantees a Tier 1 to Tier 3 Gold or Red Cosmic Talisman and 5★ Gold Idol.
Please note that Czar Eddie is not currently available in any other souls. If you miss your chance to recruit him, it may be a very long time until you get another chance!