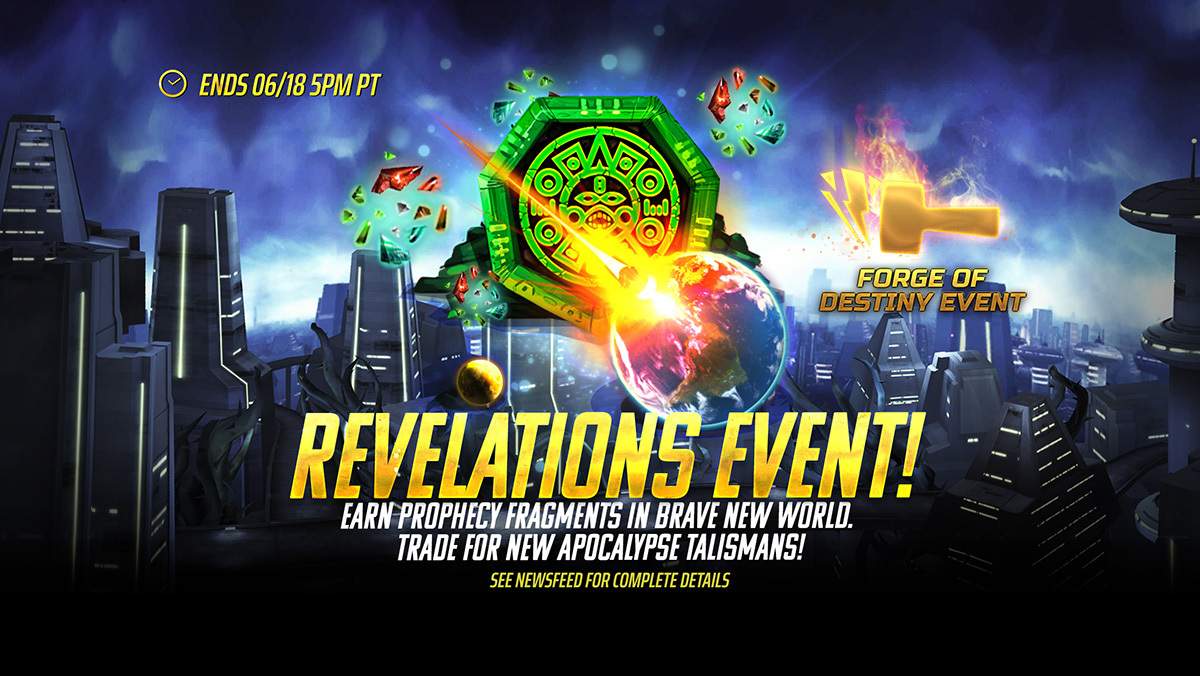 11 Jun

Revelations – Battle for Apocalypse Talismans and Awakening Materials!

Battle in Brave New World for rare rewards.

From now until June 18th at 5PM PDT, battle in the Brave New World dungeons for a chance of earning Prophecy Fragments. Normally, when the fragments drop, you'll earn 5 or 10 fragments, but if you're lucky, you could earn 25 fragments from one battle.

Prophecy Soul Fragments can be traded in store for Cosmic Explosive and Resilience Talismans, as well as new 5-set Apocalypse Talismans!

Apocalypse Talismans are green talismans with a 5 set effect that is not available anywhere else! Equip them for the following effects:

Prevents enemies from taking Extra Turns until they die. Removes all beneficial effects from each enemy and deals 6 hits of random damage based on their MAX HP for each effect removed every action.

Bonus: Complete solo and Clan event challenges to earn Cosmic Evolution Materials, Thor Eddie Fragments, Tribute, Forged Fragments and more.

Forged Fragments are the event currency of the Forge of Destiny Mega Event.

Trade your Forged Fragments in the Mega Store for rare rewards including Freya Cosmic Talismans and Odin himself!

Event Store Additions:

Get another full set of Apocalypse Talismans, or purchase a finisher pack in store!
Grab an additional boost of Prophecy Soul Fragments to trade for more items in the Event Store. This Fragment Mega Pack also contains Talisman Soul Fragments, Frontier Coins, Ironite and more!

Notes on Clan Event Challenges:

Players can join a Clan part way through an event in order to obtain these extra Event Challenges.

If you are removed from your Clan, or choose to Leave a Clan during the event, you will no longer be able to participate in the Clan Event Challenges. After the 24 hour cooldown you can then join a different Clan. This will give you access to any active Clan Event Challenges, and any Clan Group Challenges will be updated to the current total for your new Clan. If the Clan has already completed and claimed a Clan Group Challenge, the new member will not be able to claim that reward. Players will not gain double rewards by Clan hopping.