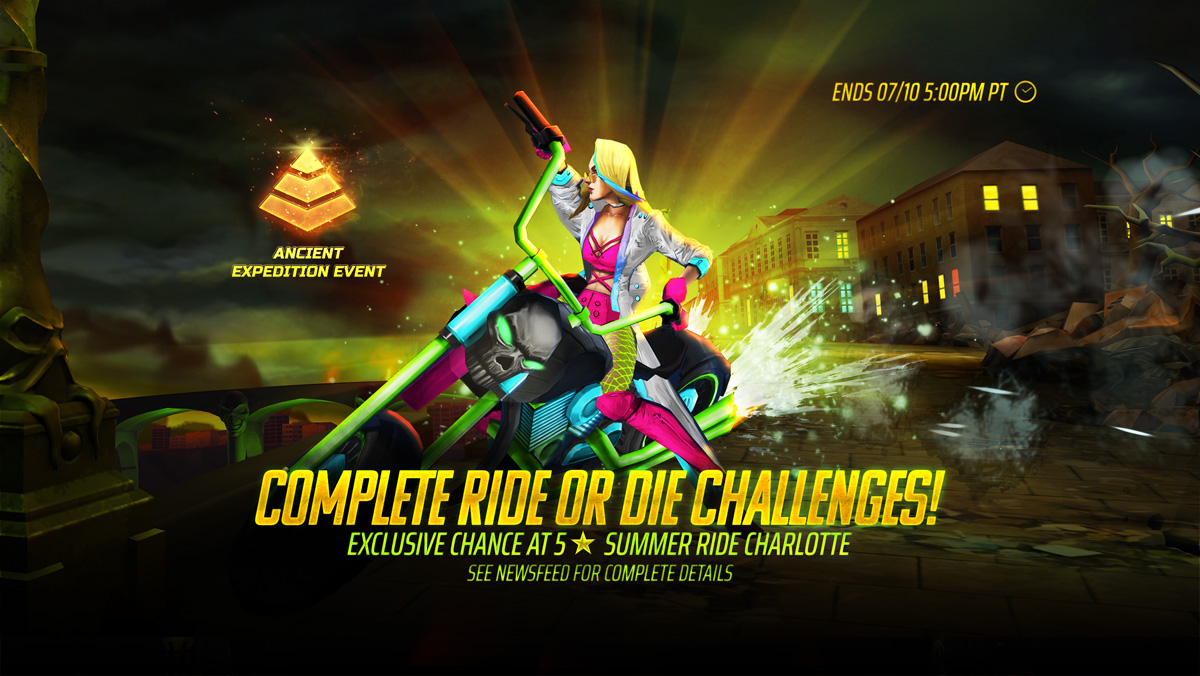 03 Jul

Ride or Die – Exclusive Chance at 5★ Summer Ride Charlotte

Tear up the pavement! Summer Ride Charlotte is a 5★ special edition version of Charlotte. Her passive Joyride makes her immune to all Silver Effects and Heals her for 25% of her MAX HP after every action.

Get full character details in the Compendium!

From now until July 10th 5PM PT, complete various solo and Clan Event Challenges to earn a range of rewards, including Renegade Supplies, Evo Materials, Discovered Riches Currency and more!

Renegade Supplies is the Ride or Die event Currency, and is traded in the Store for rewards such as Biker Souls, Cosmic Biker Talismans, Wrathchild Fragments and Summer Ride Charlotte herself!

Note: At the end of this event, any unspent Currency will be automatically converted into Precious Soul Fragments at a 10% rate.

Biker Soul Details

The Biker Soul is a limited time event soul which guarantees a 3★ to 5★ character of any class with an increased chance of summoning certain Night City themed characters (see Soul Drop Percentage page in the Book of Souls for full list). It also has an exclusive chance of summoning 5★ Summer Ride Charlotte and Infinite Dreams Eddie.

Each Biker Soul summoned will also grant the following bonus rewards:
10 Infinite Dreams Eddie Soul Fragments
10 Summer Ride Charlotte Soul Fragments
10 Bar Brawl Soul Fragments
20 Talisman Gold Red Soul Fragments

750 Infinite Dreams Eddie Fragments guarantees 1 5★ Assassin Infinite Dreams Eddie.

500 Summer Ride Charlotte Fragments guarantees 1 5★ Warrior Summer Ride Charlotte.

350 Bar Brawl Fragments guarantees either a 4★ Derby Demon or Banshee of any class.

400 Talisman Gold Red Soul Fragments guarantees a Tier 1 to Tier 3 Gold or Red Cosmic Talisman and 5★ Gold Idol.

Notes on Clan Event Challenges:

Players can join a Clan part way through an event in order to obtain these extra Event Challenges.

If you are removed from your Clan, or choose to Leave a Clan during the event, you will no longer be able to participate in the Clan Event Challenges. After the 24 hour cooldown you can then join a different Clan. This will give you access to any active Clan Event Challenges, and any Clan Group Challenges will be updated to the current total for your new Clan. If the Clan has already completed and claimed a Clan Group Challenge, the new member will not be able to claim that reward. Players will not gain double rewards by Clan hopping.