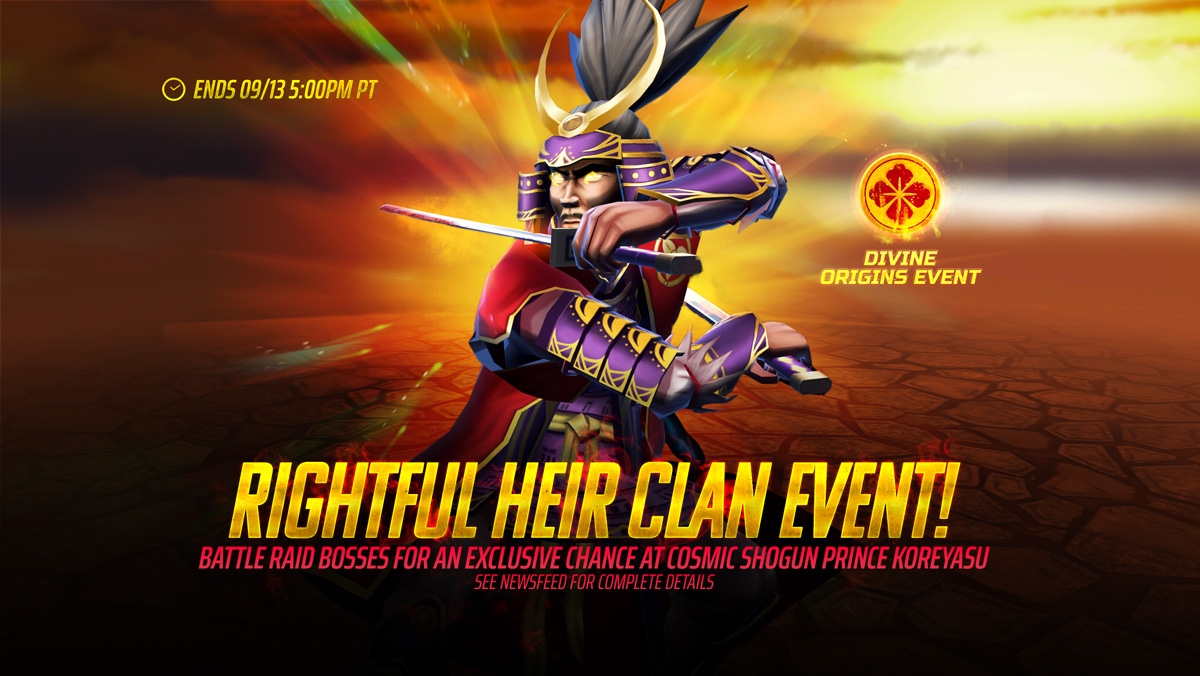 06 Sep

Rightful Heir – Exclusive Chance at Shogun Prince Koreyasu!

Emperor's Shogun
Amaterasu's Chosen
Son of radiance

Taking dual blades into battle and following a strict code of justice, the son of the Emperor, Prince Koreyasu is ready to lead Japanese forces against any foreign incursions. His Bushido Code punishes enemies and allows the Shogun Prince to revive to MAX HP once per battle!

Get full character details in the Compendium!

From now until September 13th at 5PM PDT, complete Clan event challenges in Raid Boss to earn rewards such as Clan God Soul Fragments, Banished Souls, Capricorn + Aries Talismans, an Ale Awakening Shard, Heavenly Currency and more!

BONUS: Battling against Raid Bosses will give a guaranteed reward of Banished Soul Fragments. These Fragments will typically drop in amounts of 50 or 100, but if you're really lucky you could earn 150 or 200 Fragments from one battle!

Banished Soul Details!

The Banished Soul is a limited time event soul which guarantees a 3★ to 5★ character of any class and a 2x chance of summoning 5★ non-highlight characters. This soul has an exclusive chance of summoning 5★ Cosmic Warrior Shogun Prince Koreyasu.

Each Banished Soul summoned will also grant the following bonus rewards:
10 Shogun Prince Koreyasu Soul Fragments
10 Shinobi Soul Soul Fragments
10 Mythical Soul Fragments
20 Talisman Gold Red Soul Fragments

500 Shogun Prince Koreyasu Soul Fragments guarantees 1 5★Cosmic Warrior Shogun Prince Koreyasu.

350 Shinobi Soul Fragments guarantees any class of 4★ Shinobi or a 5★ Cosmic Shinobi!

400 Talisman Gold Red Soul Fragments guarantees a Tier 1 to Tier 3 Gold or Red Cosmic Talisman and 5★ Gold Idol.

Note: All Event Souls in the month of September will contain Shinobi Soul Fragments. Free Souls from each event will guarantee at least 1 Shinobi for your collection. Don't convert your fragments until the end of the month so you can take full advantage of this opportunity!

Notes on Clan Event Challenges:

Players can join a Clan part way through an event in order to obtain these extra Event Challenges.

If you are removed from your Clan, or choose to Leave a Clan during the event, you will no longer be able to participate in the Clan Event Challenges. After the 24 hour cooldown you can then join a different Clan. This will give you access to any active Clan Event Challenges, and any Clan Group Challenges will be updated to the current total for your new Clan. If the Clan has already completed and claimed a Clan Group Challenge, the new member will not be able to claim that reward. Players will not gain double rewards by Clan hopping.