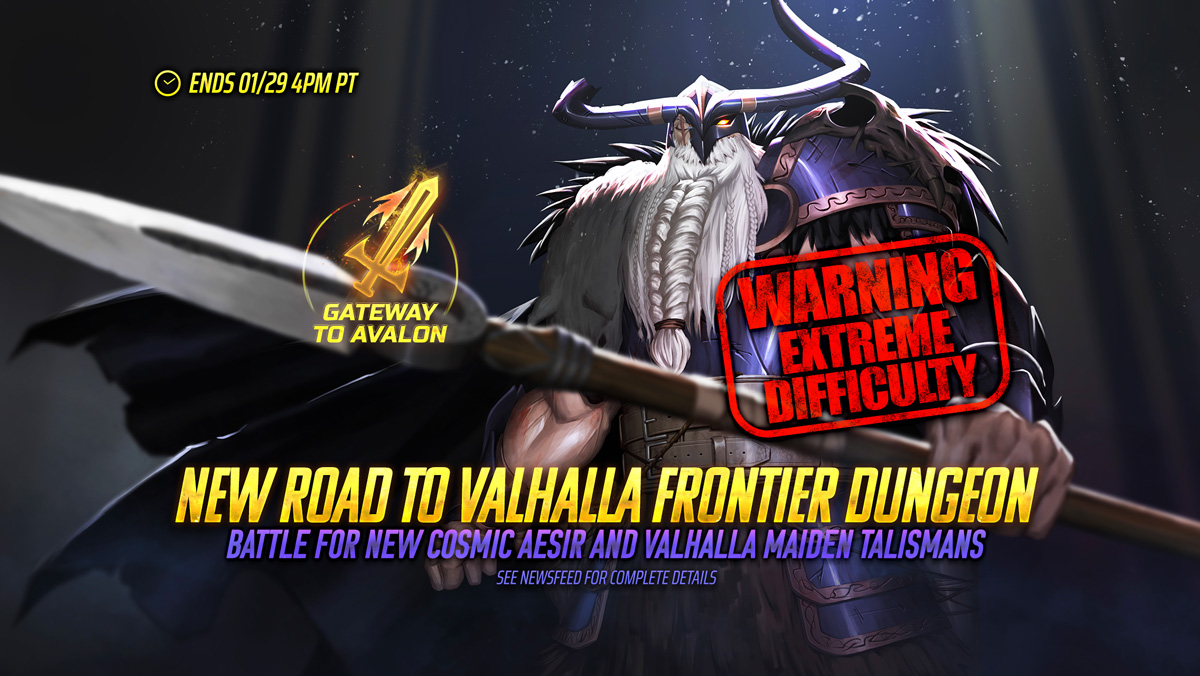 22 Jan

Road to Valhalla (Frontier) -Battle for new Cosmic Aesir and Valhalla Maiden Talismans

A new challenge is available!

From now until January 29th at 4PM PT, complete Event Challenges in the Road to Valhalla Frontier Dungeon to earn a variety of rewards, including Knowledge Seeker Currency, Talisman Fragments, Iron Coins and more!

Troopers be warned – This Frontier Dungeon is EXTREMELY difficult. Only our most seasoned competitors will be able to complete it.

This event is specifically designed to provide our veteran players with a new challenge. In light of this, we have still provided 1 simple sand spend challenge that is accessible for everyone and will award Gold and Eternal Essence Currency. 

Eternal Essence is the event currency of the Gateway to Avalon Event.

Trade your Eternal Essence Currency in the Event Store for rare rewards including King Arthur Eddie, Mimic Cosmic Talismans and more!

You can learn more about this month's featured event in the Gateway to Avalon event post here!

For those who are up to the task of squaring off against the likes of Freya, Fenrir, Thor Eddie and Odin you can access the Road to Valhalla Dungeon by:
Completing a repeatable event challenge (Spend 100 Sands of Time)

Claiming 1 free Key Soul in the store

Purchasing Key Souls with Gold (this event only)

Purchasing Key Souls with Frontier Coins.
More details on the Dungeon below!
Knowledge Seeker Currency can be traded in store for Norse Awakening Shards, Cosmic Valhalla Maiden Talismans and new Cosmic Aesir Talismans.
The Cosmic Aesir Talisman provides an exclusive bonus when equipped to Thor Eddie or Odin. This Talisman increases stats in battle, and reduces incoming damage. It will also make the wearer:
Immune to Magic Damage. Gain Immunity to Damage for 1 turn if Magic Penetration or Ascension are active on self at the start of battle and at the start of your turn. 35% Chance to Gain 1 Power and inflict Shock, Stun or Freeze on attacking enemies for 2 turns when you take damage. 
Road to Valhalla Frontier Key Dungeon
Earn Skuld, Valhalla Maiden by completing Road to Valhalla Dungeon Achievements!
The Road to Valhalla Dungeon has a 5 battle limit per key. You have 2 hours total to complete those 5 battles. The dungeon will close once you have completed 5 battles, OR after the 2 hour period has elapsed without the battle limit being met. Troopers beware! This is a high challenge Dungeon with a 5* Rarity Restriction, so be prepared!
The first time you complete this dungeon, you will receive set rewards including a Legendary Soul, Talisman Epic Soul Fragments and more. 
All subsequent victories are guaranteed to provide XP Runes, as well as a chance of bonus rewards, including Protection Talismans if your battle Thor Eddie, Freya or Rota, Valhalla Maiden, or Mercy Talismans if you battle Gunnr, Valhalla Maiden or Fenrir.
**IMPORTANT: If you summon another Road to Valhalla Frontier Key Soul while the corresponding Dungeon is already open you will refresh that dungeon's countdown timer.