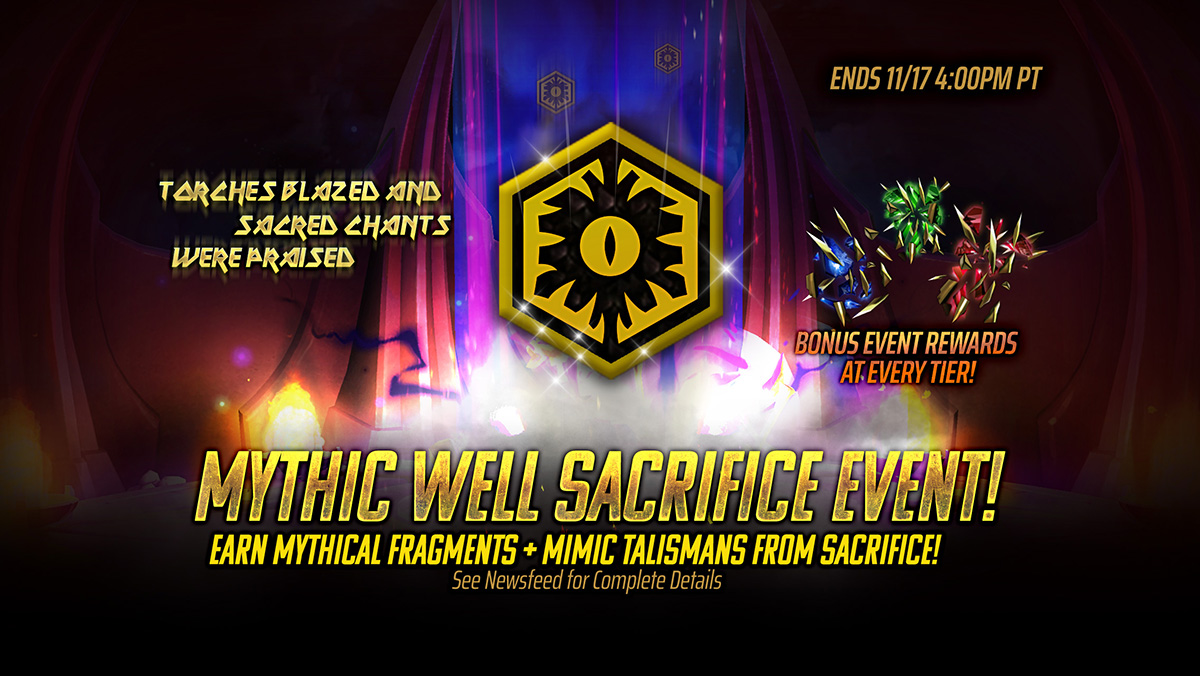 09 Nov

Sacrifice for Mimic Talismans & Mythical Soul Fragments!

Earn a debut 4-set talisman from Sacrifice!

From November 9th until November 17th at 4 PM PT, Sacrifice to earn Mimic Talismans and a variety of Mythical Soul Fragments!

Mimic Talismans copy all the Beneficial Effects, including Golden Effects, of a random enemy at the start of battle. This set will also allow you to copy one beneficial effect from a random enemy after each action!

The main way you can earn Mimic Talismans is from the Sacrifice feature. You can now get Mimic Talismans as a bonus for Vortexes! Additional event rewards also include Warrior, Magus or Sentinel Mythical Soul Fragments which you will receive as a bonus from each tier of Sacrifice, in addition to normal sacrifice rewards:

Bonus **reward breakdown in the table below:
Tier 1
Tier 2
Tier 3
Tier 4
5 Mythical Soul Fragments
10 Mythical Soul Fragments
35 Mythical Soul Fragments
75 Mythical Soul Fragments
Tier 5
Tier 6
Tier 7
Vortex
150 Mythical Soul Fragments
250 Mythical Soul Fragmentss
500 Mythical Soul Fragments
350 Mythical Soul Fragments
1, 2 OR 4 Mimic (Will) Talismans
**Did you know you can double your rewards for a sacrifice? Doing a sacrifice with a higher amount of essence than the minimum required gives you a chance of getting double rewards based on how much you've exceeded the essence requirement. If you double the essence required for a tier, you'll be guaranteed to get double the rewards!
Note: The Mythical Soul Fragments received will be randomly selected from 1 of the following 3 Mythical Soul Fragment classes: Warrior, Magus, Sentinel.
You can also earn a FULL SET of Mimic Talismans by completing Sacrifice-themed event challenges, as well as additional Warrior, Magus and Sentinel Mythical Soul Fragments!
Start sacrificing today -> http://m.onelink.me/49d39710