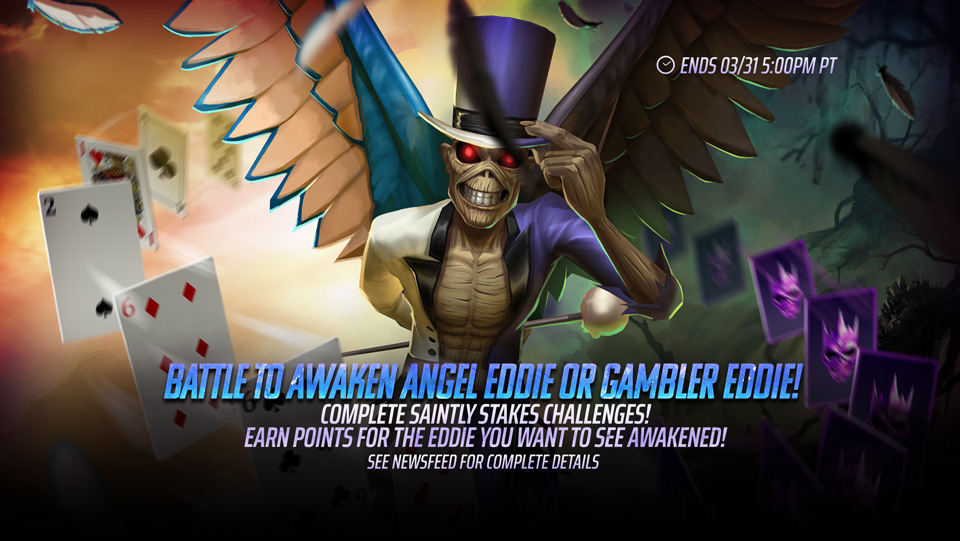 01 Mar

Saintly Stakes – Battle to awaken Angel Eddie or Gambler Eddie!

Angel Eddie and Gambler Eddie are going 'ed to 'ed!

From now until March 31st 5pm PT, use either Angel Eddie or Gambler Eddie in 3 simple challenges.

These challenges involve playing in the Cosmos, Lord of Light, Brave New World, Arena and Frontier Dungeons. Each battle completed will count as a point towards the Eddie used. We will be tallying these points throughout the month.

The points per activity are as follows:


The character that earns the most points during this process will be awakened in a future update (currently slated for June 2022).
Be sure to keep an eye on our social channels! We plan to run bonus community initiatives on social media to help the Eddie of your choice get more points!
If you don't have either of these characters, start saving your Frontier Coins now! Both Angel and Gambler Eddie Souls and Fragments on sale (10% off their regular price) from now to March 31st.
Finally, we wanted to give a special shout-out to our community member, TransVader, whose event idea was the inspiration for Awakening Duel and helped spur this new event into motion.