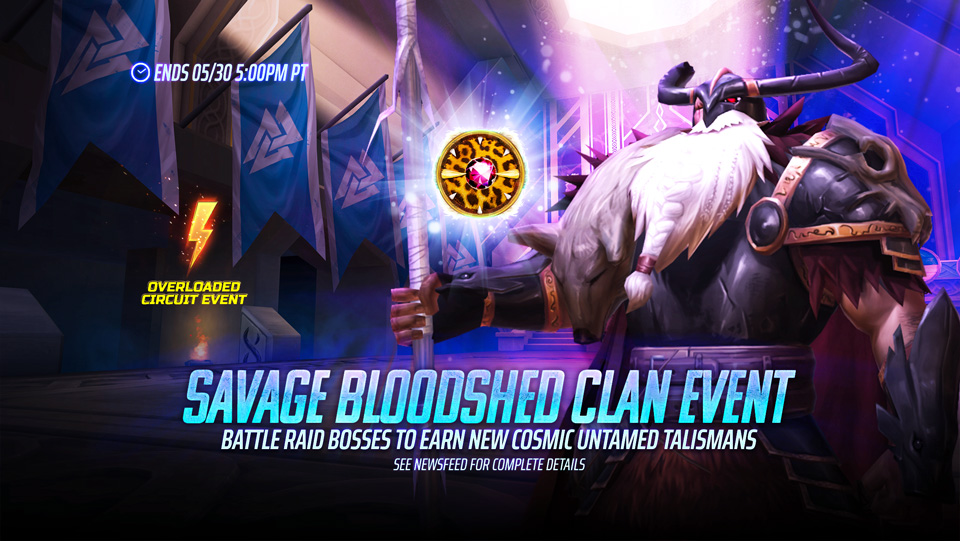 23 May

Savage Bloodshed (Raid Boss) – Earn new Cosmic Untamed Talismans!

From now until May 30th at 5PM PDT, complete Clan event challenges in Raid Boss to earn rewards such as Clan God Soul Fragments, Animalistic Artifacts, Avaricious Talismans, Conductive Cores and more!

BONUS: Battling against Raid Bosses will give a guaranteed reward of Animalistic Artifacts. These Artifacts will typically drop in amounts of 50 or 100, but if you're really lucky you could earn 150 or 200 Animalistic Artifacts from one battle!

Animalistic Artifacts can be traded in store for various Cosmic Talisman Upgrade Bundles, and new Cosmic Untamed Talismans!

Cosmic Untamed Talismans increase your stats in battle and reduce incoming damage.

This Talisman's effects only activate when equipped to Monsters Bat Eddie, Easter Rabid, Vârcolac, Werewolf and Wolf characters, Guotin 天兽, Chupacabra, Orangutan, Dog and Hound named characters, 'The Bird' named characters, Wicker and Owl named characters, Skogkatt named characters, Sandworm characters, Berserker, Minotaurs, Spirit Jaguar, Fenrir, Raven Witch and Yeti characters.

When equipped the Untamed Talisman will do the following:

All attacks you make are perfect hits. Reflect 35% of damage taken back to the attacker as random damage based on their MAX HP. When you die for the first time, revive up to MAX HP and grant Immortality or Endure for 1 turn to all allies, and inflict Perfect Heal Block and Perfect Death for 3 turns on all enemies.

Note: At the end of this event, any unspent Currency will be automatically converted into Precious Soul Fragments at a 10% rate.

Conductive Cores is the event currency of our Overloaded Circuit event running until May 31st.

Trade your Conductive Cores in the Event Store for rare rewards including A Real Live Dead One Eddie, Cosmic Paranoia Talismans and more!

Notes on Clan Event Challenges:

Players can join a Clan part way through an event in order to obtain these extra Event Challenges.

If you are removed from your Clan, or choose to Leave a Clan during the event, you will no longer be able to participate in the Clan Event Challenges. After the 24 hour cooldown you can then join a different Clan. This will give you access to any active Clan Event Challenges, and any Clan Group Challenges will be updated to the current total for your new Clan. If the Clan has already completed and claimed a Clan Group Challenge, the new member will not be able to claim that reward. Players will not gain double rewards by Clan hopping.