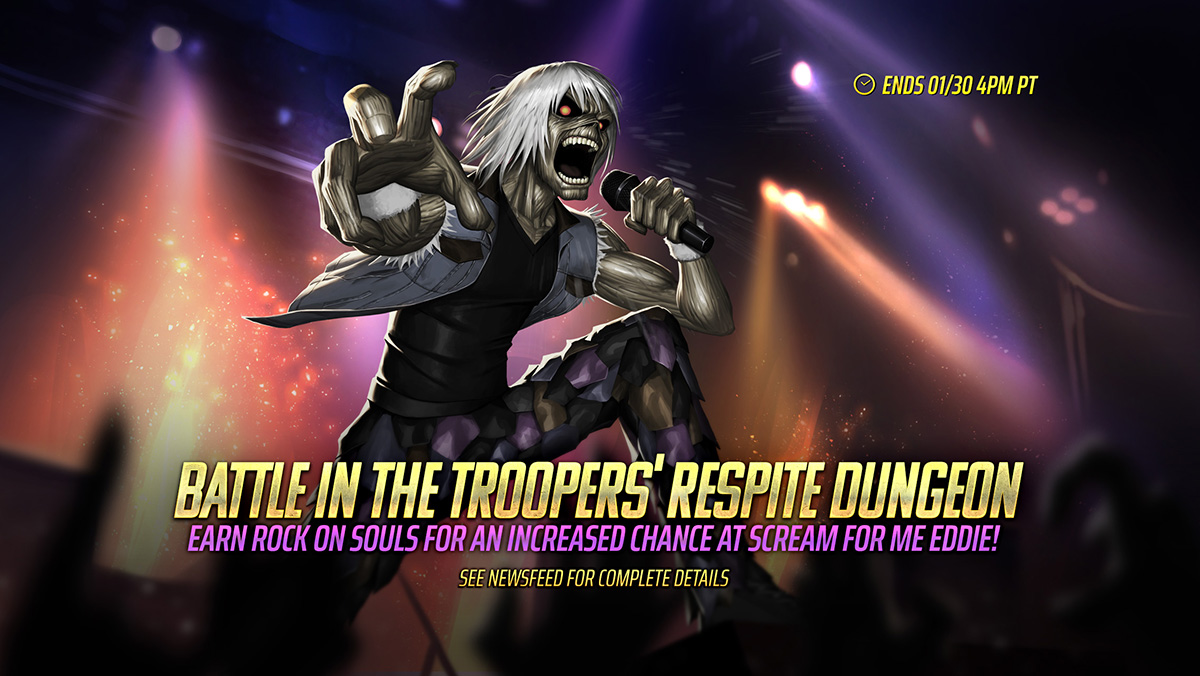 23 Jan

Scream for Me Eddie is here! Battle in the Troopers' Respite dungeon NOW!

From now until January 30th, 4 PM PT, battle your way through the streets of Night City to reach the Troopers' Respite Pub. Inspired by the birthplace of Iron Maiden, this Dungeon comes with 4 difficulty settings and is packed with awesome rewards!

The first time you complete Normal, Hard or Madness, you will be granted with set rewards including Rock on Souls and Power Talismans, and your first Insanity run will grant T3 Cosmic Evo Runes and Talisman Epic Soul Fragments. All subsequent victories are guaranteed to provide Sentinel Soul Fragments, and new Dungeon Fragments, as well as a chance of up to 2 bonus rewards, including Artifact Talismans.

Rock On Souls can be earned in one of three ways:
Earn them as first time completion rewards in the Normal, Hard and Madness levels of the Troopers' Repite Dungeon
Complete Event Challenges! Getting 200 fragments will earn you a Rock On Soul, with up to 10 Souls that can be earned from challenges over the course of the event.
Get Rock On Souls in store for Ironite in the usual bundle sizes of 1, 3, or 10.
In addition to Rock On Soul Fragments, completing event challenges will grant various other rewards, including Ironite, Frontier Coins and Sacrificial Talismans!
Dungeon Fragment and Dungeon Store Details:
Dungeon Fragments are a new addition that will drop in event Dungeons. Use Dungeon Fragments to purchase items found within the new Dungeon Store Tab. You can continue collecting and building your stockpiles of Dungeon Fragments with each Dungeon event.
The Dungeon Store is packed with high value items such as Talisman Souls, Starfire Talismans, Space Talismans and more! Please note that the Dungeon Store will disappear between dungeon events. The Store will be available from January 23rd-31st at 4pm PT. It will reappear again with the same items available the next time a dungeon event is held.
See full Soul and Event details in the in-game newsfeed! -> http://m.onelink.me/49d39710