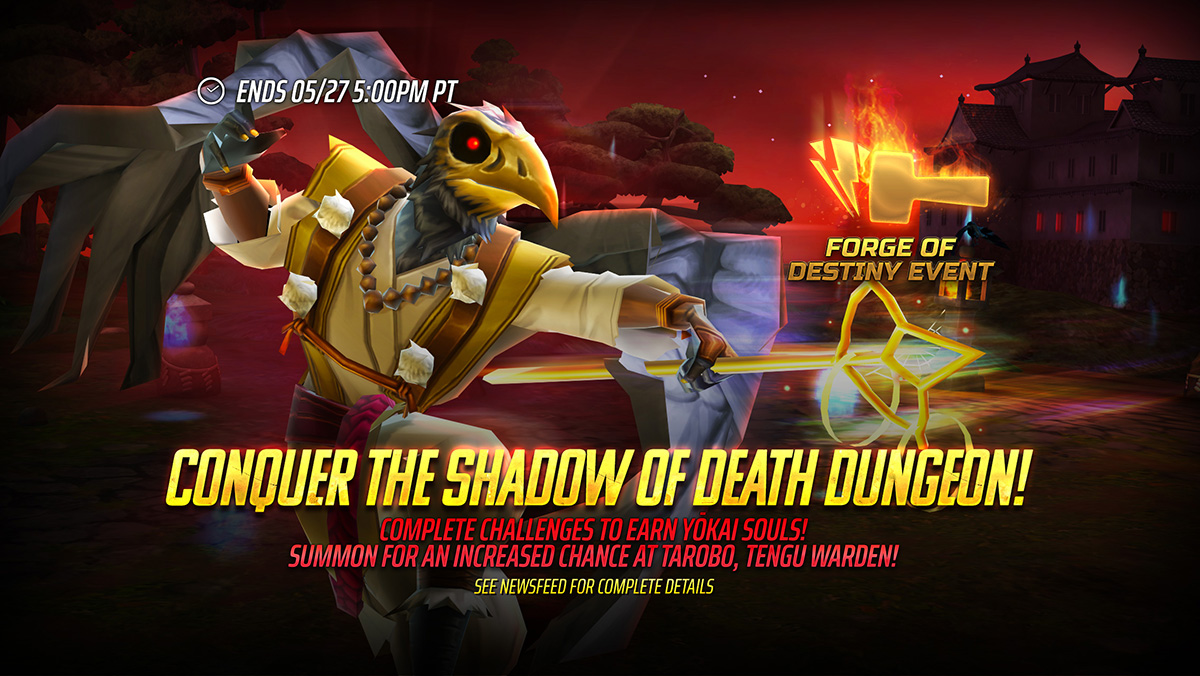 20 May

Shadow of Death – Increased chance at Tarobo, Tengu Warden and Oni Eddie!

Battle in the Shadow of Death dungeon for Tarobo, Tengu Warden!

Tarobo is a new 5★ Gunner who punishes enemies with negative effects, and can load up beneficial effects on his allies to turn the tide of battle.

His passive grants immunity to Burn effects to all allies and will remove a Random Beneficial Effect, and inflict a Random Negative Effect on attacking enemies for 2 turns when anyone on your team takes damage!

From now until May 27th, 5 PM PT, battle in the Shadow of Death dungeon! This dungeon comes with 4 difficulty settings and is packed with awesome rewards!

The first time you complete Normal, Hard or Madness, you will earn set rewards including Yōkai Souls and Avenger Talismans, and your first Insanity run will grant T3 Cosmic Evo Runes and Talisman Epic Soul Fragments. All subsequent victories are guaranteed to provide Gunner Soul Fragments, and Dungeon Fragments, as well as a chance of up to 2 bonus rewards, including Singularity Talismans.

Yōkai Souls can be earned in three ways:
Earn them as first time completion rewards in the Normal, Hard and Madness levels of the Shadow of Death Dungeon.
Complete Event Challenges! Getting 200 fragments will earn you a Yōkai Soul, with up to 10 Souls that can be earned from challenges over the course of the event.
Get Yōkai Souls in store for Ironite in the usual bundle sizes of 1, 3, or 10.
In addition to Yōkai Soul Fragments, completing event challenges will grant various other rewards, including Forged Soul Fragments and new Temperance Talismans!
Yōkai Soul Details!
The Yōkai Soul is a limited time event soul which guarantees a 3★ to 5★ character of any class and has a 2x chance of summoning 5★ characters! It also has an increased chance of summoning 5 classes of Shinobi, Oni Eddie, Samurai Eddie and Tarobo, Tengu Warden.
Each Yōkai Soul summoned will also grant the following bonus rewards:
10 Tarobo, Tengu Warden Soul Fragments
20 Talisman Gold Red Soul Fragments
Collecting 750 Tarobo, Tengu Warden Soul Fragments guarantees one 5★ Tarobo, Tengu Warden!
400 Talisman Gold Red Soul Fragments guarantees a Tier 1 to Tier 3 Gold or Red Cosmic Talisman and 5★ Gold Idol.