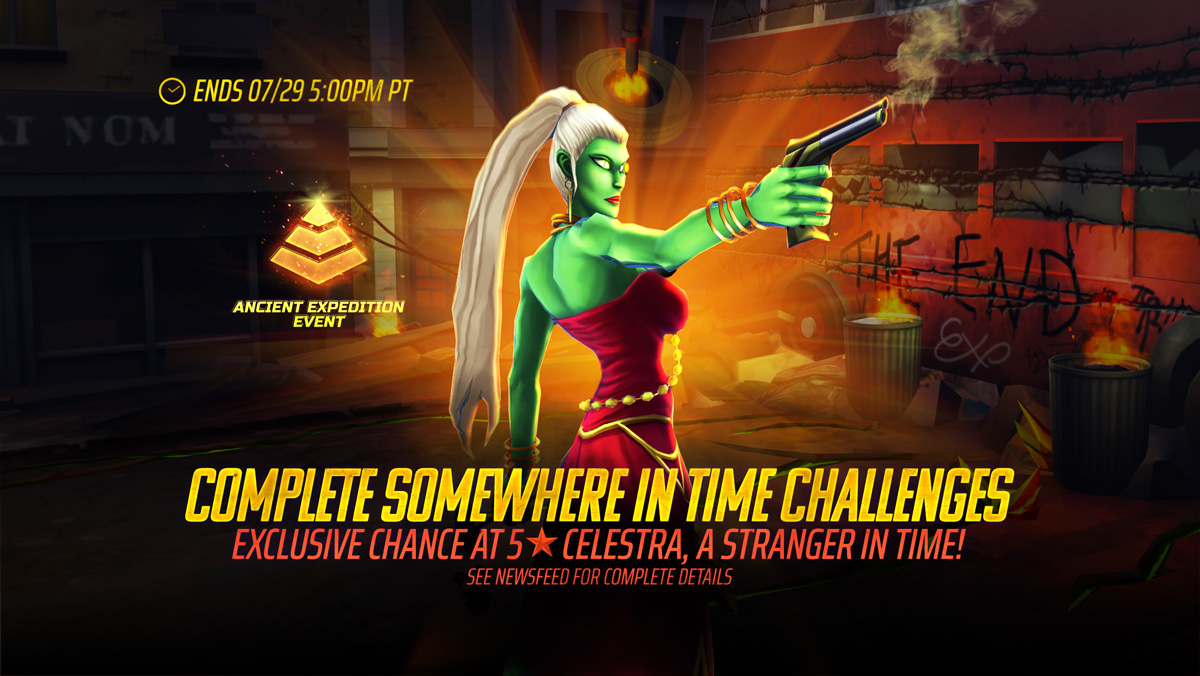 22 Jul

Somewhere in Time – Exclusive Chance at 5★ Celestra, A Stranger in Time!

Our Forge a Hero character has arrived! This new character was built with the assistance of community input throughout the spring of 2021!

From the reaches of the Andromeda Galaxy comes a mercenary, as alluring as she is deadly. Celestra, A Stranger In Time, has a knack for bounty hunting, and is not above working with other mercs. A master of deception, stealth and combat prowess, Celestra is relentless in pursuit of her quarry, and will plan far ahead to make sure they have nowhere to escape. After a successful mission, she can often be found at the Strange Land canteen, alongside some of the universe's most deadly mercenaries.

Get full character details in the Compendium!

From now until July 29th at 5PM PT, complete challenges to earn Strange Land Souls, Strange Land Awakening Shards, Intergalactic Currency, Discovered Riches and more.

Intergalactic Currency is traded in the Store for rewards such as Strange Land Souls, Nuclear Awakening Shards, Strangeland Awakening Shards and more!

Note: At the end of this event, any unspent Currency will be automatically converted into Precious Soul Fragments at a 10% rate.

Completing select event challenges will also reward Aquarius Talismans!

Aquarius Talismans are purple talismans with a 3 set effect. Equipping this set will give the following effects:

50% Chance to inflict Stun on all enemies at the start of your turn. Gain 2 Power and an Extra Turn when you kill an enemy.

Gain the following Ascendant Effect if any other Zodiacal Talismans are active on self:

Prevent enemies from using Power or Fury skills for 2 turns when you kill an enemy. Grant Accuracy Up, Armor Penetration, Echo or Shroud for 1 turn to each ally at the start of battle and at the start of your turn.

Strange Land Soul Details!

The Strange Land Soul is a limited time event soul which guarantees a 3★ to 5★ character of any class. This soul has a 2x chance of summoning 5★ non-highlight characters, and has an exclusive chance of summoning 5★ Sentinel Celestra, A Stranger in Time.

Each Strange Land Soul summoned will also grant the following bonus rewards:
10 Celestra Soul Fragments
10 Mythical Soul Fragments
20 Talisman Gold Red Soul Fragments

500 Celestra Soul Fragments guarantees 1 5★ Sentinel Celestra, A Stranger in Time.

400 Talisman Gold Red Soul Fragments guarantees a Tier 1 to Tier 3 Gold or Red Cosmic Talisman and 5★ Gold Idol.