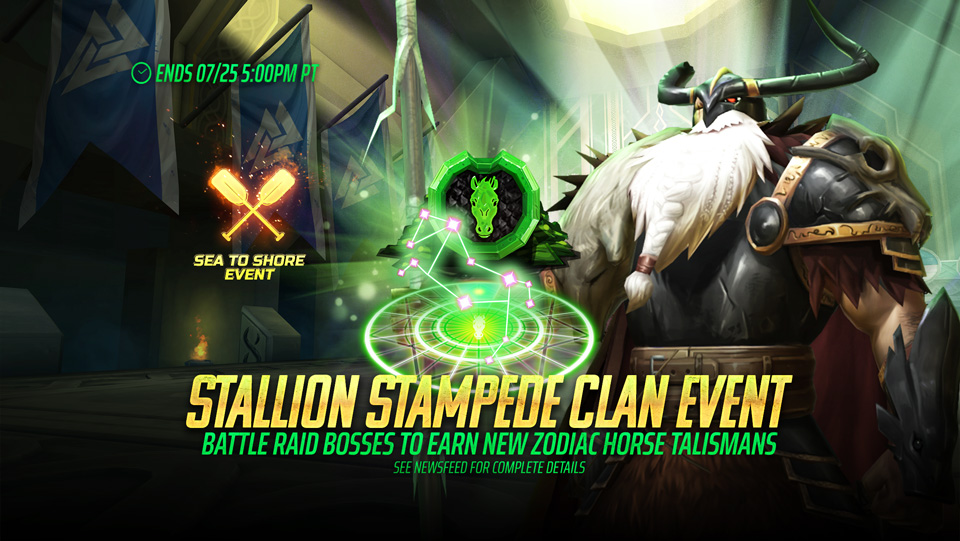 18 Jul

Stallion Stampede (Raid Boss) – Battle Raid Bosses to earn new Zodiac Horse Talismans

From now until July 25th at 5PM PDT, complete Clan event challenges in Raid Boss to earn rewards such as Clan God Soul Fragments, Equestrian Emblems, Faith Talismans, Bloodied Blades and more!

Equestrian Emblems can be traded in store for various Awakening Packs, and new Zodiac Horse Talismans!

The Zodiac Horse Talisman is a green talisman with a 3-set effect. Equip them to gain the following effects:

25% Chance to stun attacking enemies when damaged. Reduce the chance of all enemy ability effects that are not 100% by 75%.

Gain the following Ascendant Effect if any other Zodiacal Talismans are active on self:

When you die for the first time, revive all allies to 25% MAX HP, granting them Innate Endure and immunity to negative effects, including Silver and Unblockable effects for 1 turn.

Note: At the end of this event, any unspent Currency will be automatically converted into Tribute at a 10% rate.

Bloodied Blades are the event currency of our Sea to Shore event running until July 31st.

Trade your Bloodied Blades in the Event Store for rare rewards including Bushida Ryō, Avatar of Eddie, Cosmic Mask Talismans and more!

Notes on Clan Event Challenges:

Players can join a Clan part way through an event in order to obtain these extra Event Challenges.

If you are removed from your Clan, or choose to Leave a Clan during the event, you will no longer be able to participate in the Clan Event Challenges. After the 24 hour cooldown you can then join a different Clan. This will give you access to any active Clan Event Challenges, and any Clan Group Challenges will be updated to the current total for your new Clan. If the Clan has already completed and claimed a Clan Group Challenge, the new member will not be able to claim that reward. Players will not gain double rewards by Clan hopping.