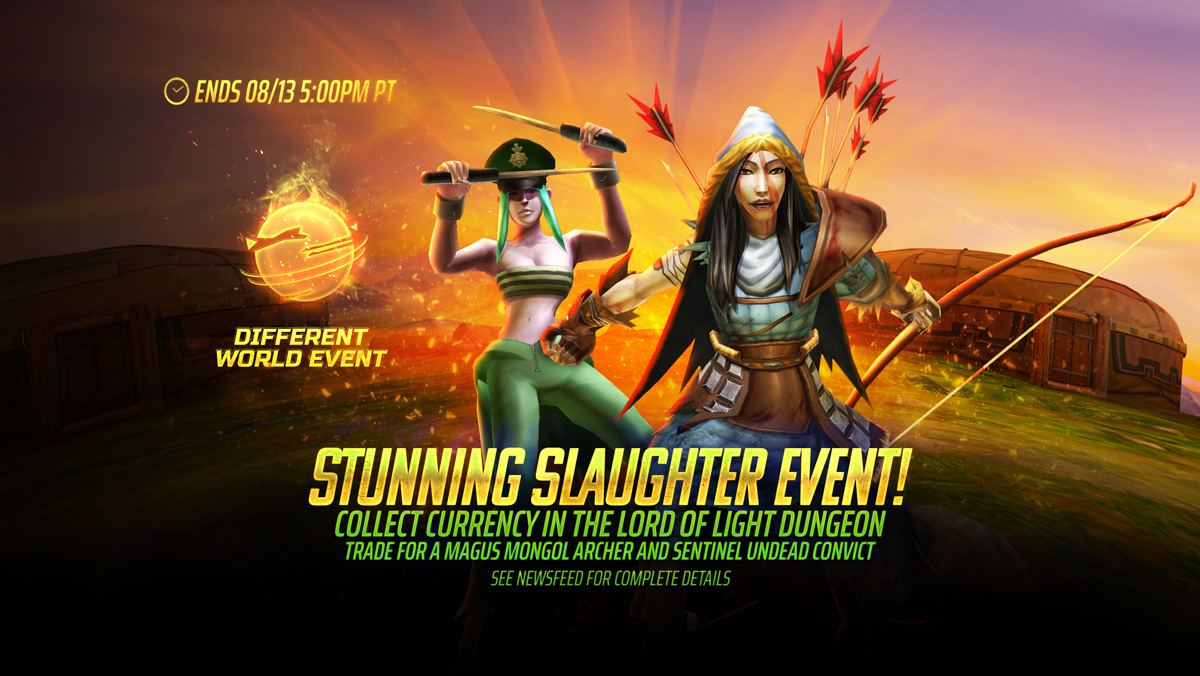 06 Aug

Stunning Slaughter – Collect the Magus Mongol Archer and Sentinel Undead Convict

Crush the Lord of Light for event currency to earn select 4⭐ characters!

From now until August 13th, 5PM PT, each battle in the Lord of Light dungeons has a chance of dropping Concealed Weapons, the Stunning Slaughter event currency. Collect 200 and you can redeem them in the Event Store for your very own 4⭐ Magus Mongol Archer or 4⭐Sentinel Undead Convict!

You can see your current currency amounts by checking the Event tab in the Challenge menu and the Event tab in Store!

Mongol Archer: Armed with a deadly bow, the Mongolian Archer buries her enemies under a volley of arrows! She has a 50% Chance to take no damage and deals multiple hits of magic damage to all enemies. Pair her with Genghis Khan and she'll grant your allies Accuracy Up both at the start of battle and your turn!

Undead Convict: Fueled by an unnatural hunger, the Undead Convict ravages her enemies by inflicting Crave and Stun, while looking out for her team with HP Regen and Revive abilities!

Normally, when it drops in Lord Of Light, you'll earn 5 or 10 pieces of event currency, but if you're lucky, you could earn 50 pieces of event currency from one battle, so don't be afraid of that 200 requirement! Players who battle in Lord of Light Floors 11-15 will also be able to earn greater amounts of event currency (10, 20 or 50) at an increased drop rate!

Note: At the end of this ally event, any unspent Currency will be automatically converted into Lilith Soul Fragments at a 10% rate. See our Event Currency guide here for more details on the system overall:

This 4⭐Ally event will also feature 3 Event Challenges which will reward a variety of items including XP Shards, Frontier Keys and Salvaged Technology.

Salvaged Technology Currency is the event currency of our Different World event running throughout August.

Trade your Salvaged Technology Currency in the Event Store for rare rewards including Different World Eddie, Cosmic Different World Talismans and more!

You can learn more about this featured event in the Different World event post here!

SPECIAL EVENT ADDITIONS:
Trade extra event currency or Common Souls for additional rewards in the Event Store!

Trade in regular Lilith Soul Fragments for Cosmic Lilith Fragments. 500 Lilith Fragments will secure you 25 Cosmic Lilith Fragments. 500 Fragments will get you a guaranteed 5⭐Magus Cosmic Lilith!

Once you've collected her, you'll be able to trade in any extra Cosmic Lilith Fragments for Talisman Red Mythic Fragments. Both of these offers will be available during our monthly fragment events.

Extra Concealed Weapons can score you Apocalypse Talismans and Cosmic Nomad Talismans!

Head to the Event Store to see the full list of items!

In addition to this, for the duration of this event, the Lord of Light dungeons also have the following changes:
Lilith Soul Fragments are available from all floors of the Lord of Light dungeons! Lilith Soul Fragments are a recurring fragment that is periodically featured in events, and may require you to collect them from multiple events in order to have enough to redeem a soul. Collect 500 for a guaranteed 5⭐ Lilith!
All Lord of Light dungeons will also have a 3x chance of dropping Rare Souls! Don't miss out on this opportunity to get more Rare Souls while getting your guaranteed 4⭐ character!