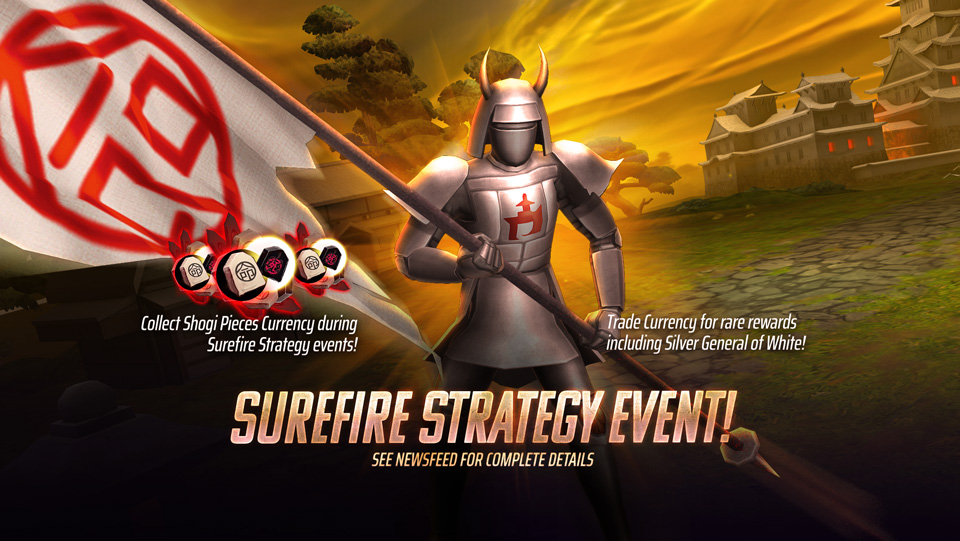 31 May

Surefire Strategy – Info and Discussion

Surefire Strategy is a series of events that will run through the month of June. These events will all grant the exact same currency type – Shogi Pieces!

There will be a total of 10 Surefire Strategy associated events.

Events where you are earn Shogi Pieces Currency are as follows:

Furigoma (Frontier)
Height Advantage (Sands)
Cloak and Dagger (Evolution)
Blazing Stance (Boss Run)**
Unyielding Frontline (Arena)
Game Of Destiny (Dungeon)
Eye of the Storm (Brave New World)
Endless Coils (Raid Boss)**
Red Baron (Fragment)
Imperial Regalia (Cosmos & Frontier)

**Clan events! Extra event challenges will be available to players who belong to a Clan. Some of these Challenges will contain Solo or Group targets. Clan Solo event challenges count your progress alone (you still need to be in a Clan to see these challenges). Clan Group event challenges will count the efforts of all members of your Clan towards the ultimate goal!

BONUS: For the month of June, Shogi Pieces will also be earnable through infinitely repeatable event challenges involving the Samurai, Fallen Fortress and Icy Abyss Frontier Dungeons!

Trade your Shogi Pieces in the Event Store for rare rewards including 5★ Silver General of White, Cosmic Artifact: Book of Soyga, Cosmic Musashi Talismans and more!

Left-hand of the King of White, this Silver General is a powerful piece on the side of light. Unquestionably loyal, the Silver General of White uses the banner-spear of his king to devastate the enemy's frontline. A model of politeness and etiquette, the Silver General adheres to the Bushido Code- and players can look forward to his protective synergies with like-characters. A powerful support piece, your enemies will be toppling over as the General advances!

Surefire Strategy offers will be available in the Event store until 5PM PT on July 3rd 2022!

After this time, all Event store items will disappear and event currency will be automatically converted into Precious Soul Fragments at a 10% rate.