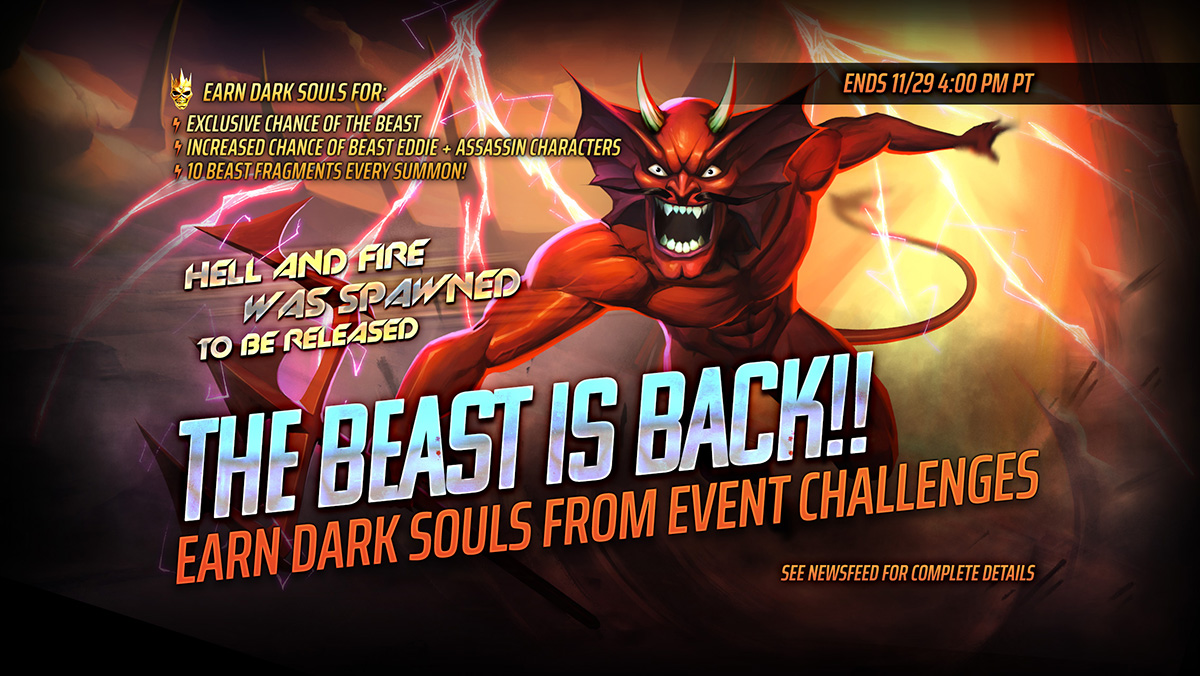 22 Nov

The Beast is Back for a limited time! – Play The Darkest Day Event NOW!

Battle for the Beast!

Earn Dark Souls for a chance to earn Beast Eddie and THE BEAST himself!

From November 22nd to November 29th at 4pm PT, complete event challenges to earn Dark Souls, Final Frontier Eddie Soul Fragments and MORE.

The Dark Soul is a limited time event soul which guarantees a 3⭐ to 5⭐ character of any class, with an increased chance of Beast Eddie and other Assassin class characters PLUS an exclusive chance of getting The Beast!

The Beast is not available in any other souls. If you miss your chance to recruit him now, it may be a very long time until you get another chance!

200 Fragments = 1 Dark Soul! You can earn up to 10 Dark Souls by completing event challenges!

☠️These challenges will require you to apply negative effects, including: Bleed, HP Drain, Mark and Furious Burn!

Help your Troopers out and set Champions that can apply some of these effects:
Benjamin Breeg Eddie
Iron Eddie
Magus Golden Son
Assassin Axis Bomber Boy
Dark Souls are also available in packs of 1, 3 or 10 from the LOTB Specials Store.
Battle Gods and Monsters today -> http://m.onelink.me/49d39710