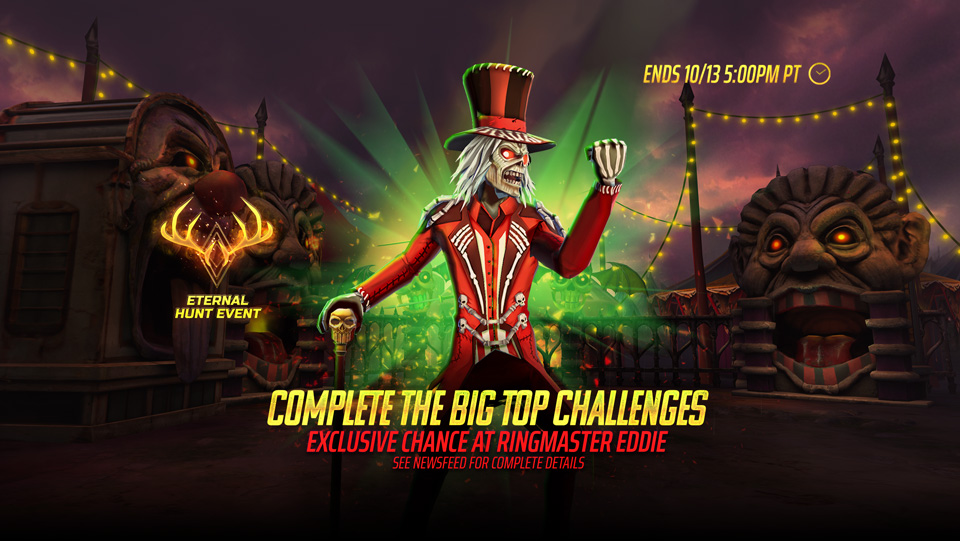 06 Oct

The Big Top (Boss Run) – Exclusive chance at Ringmaster Eddie

From now until October 13th at 5PM PDT, battle bosses and complete event challenges to earn rewards such as Extravaganza Souls, Circus Tickets, Aries Talismans, Taurus Talismans, Wild Artifacts and more!

Circus Tickets can also be earned by battling in the Fallen Fortress, Final Journey, Baphomet's Bar, Samurai, Mystic Nights, Powerslave, The Labyrinth, and Infernal Frontier Dungeons. Each successful run on will award 15 Circus Tickets on Normal difficulty, 20 Circus Tickets on Hard and 25 Circus Tickets on Madness.

Trade your Circus Tickets for Extravaganza Souls in 1, 3 and 10 packs, Cosmic Trooper Eddie Talismans, and Adventure Talismans.

Note: At the end of this event, any unspent Currency will be automatically converted into Precious Soul Fragments at a 10% rate.

Extravaganza Soul Details!

The Extravaganza Soul is a limited time event soul which guarantees a 3★ to 5★ character of any class This soul has a 2x chance of summoning 5★ non-highlight characters, and has an exclusive chance of summoning a 5★ Sentinel Ringmaster Eddie.

Each Extravaganza Soul summoned will also grant the following bonus rewards:
10 Ringmaster Eddie Soul Fragments
20 Talisman Gold Red Soul Fragments

750 Ringmaster Eddie Fragments guarantees a 5★ Sentinel Ringmaster Eddie.

400 Talisman Gold Red Soul Fragments guarantees a Tier 1 to Tier 3 Gold or Red Cosmic Talisman and 5★ Gold Idol.

Wild Artifacts are the event currency of our Eternal Hunt event running until October 31st.

Trade your Wild Artifacts in the Event Store for rare rewards including the Cernunnos, Zodiac Talismans and more!