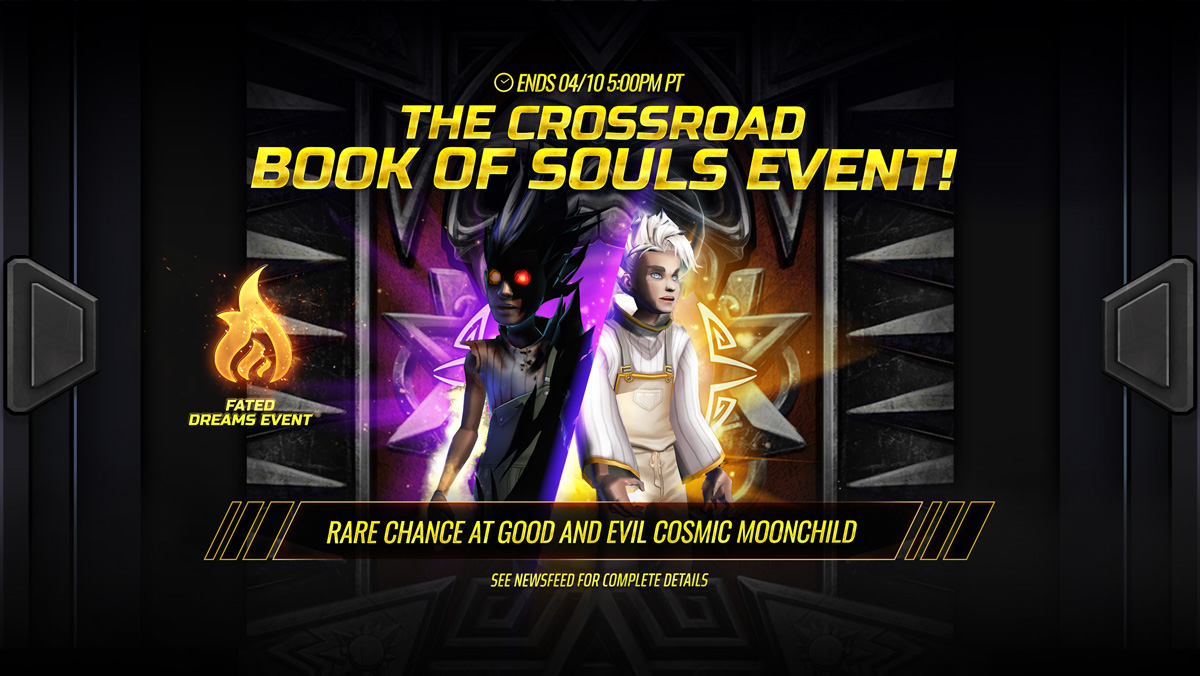 03 Apr

The Crossroad (Book of Souls) – Summon for a chance at Good and Evil Cosmic Moonchild!

The struggle continues!

Participate in our newest event for a chance at the Good and Evil Cosmic versions of Moonchild. Good Moonchild is a 5★ Gunner with the Seven Angels, Seven Saints Passive ability which focuses on reviving your allies and extending your beneficial effects. Evil Moonchild has a more malevolent approach. This 5★ Assassin has the Seven Devils, Seven Sins passive which prevents enemies from reviving and will extend all negative effects on them at the start of your turn.

From now until April 10th at 5PM PDT, every non-Heroic Rare, Epic, Legendary Mythic, and Talisman Soul you open in the Book of Souls, regardless of where you earned it (Skull Quests, bought from Store, earned from Sacrifice, etc) will give you a guaranteed bonus of Seventh Seal Soul Fragments. 

The Seventh Seal Soul is a limited time event soul which guarantees a 3★ to 5★ character of any class and a 2x chance of summoning 5★ non-highlight characters. It also has an EXCLUSIVE chance of summoning 5★ Gunner Cosmic Good Moonchild and 5★ Assassin Cosmic Evil Moonchild.

Seventh Seal Soul Details!

Each Seventh Seal Soul summoned will also grant the following bonus rewards:
10 Fated Death Soul Fragments

10 Mythical Soul Fragments

20 Talisman Gold Red Soul Fragments
Collecting 1000 Fated Death Soul Fragments will create a Soul that has a 50/50 chance of summoning either 5★ Gunner Cosmic Good Moonchild or 5★ Assassin Cosmic Evil Moonchild.
400 Talisman Gold Red Soul Fragments guarantees a Tier 1 to Tier 3 Gold or Red Cosmic Talisman and 5★ Gold Idol.
IMPORTANT: Hold on to your Fated Death Fragments! Once The Crossroad Event ends, these Fragments are still good and you will be able to obtain more from the Frontier Store (100 Fated Death Soul Fragments for 250 Frontier Coins). Also, both Good and Evil Cosmic Moonchild will be placed in the Frontier Store. These characters will be permanent additions and you can use your Frontier Coins to purchase these characters directly (each character will cost 5000 Frontier Coins).
This event also features a number of challenges that reward additional Seventh Seal Fragments, Nightmare Currency, Cosmic Evo Materials and more. 
Nightmare Currency is the event currency of our Fated Dreams event running throughout April.
Trade your Nightmare Currency in the Event Store for rare rewards including Infinite Dreams Eddie, Cosmic Biker Talismans and more!
You can learn more about this featured event in the Fated Dreams event post