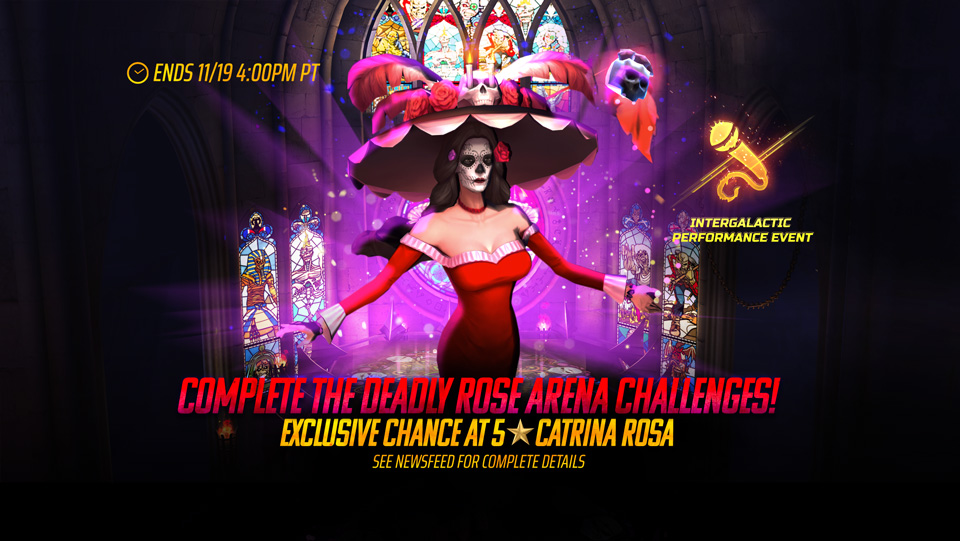 12 Nov

The Deadly Rose (Arena) – Exclusive chance at the 5★ Catrina Rosa

From now until November 19th at 4PM PT, complete event challenges for rewards including Elegant Souls, a Passionate Awakening Shard, Iron Coins, Galactic Credits and more!

See the Challenge menu for full details!

Bonus: Elegant Soul Fragments are ALSO dropping in the Eternal Frontier Dungeon, Mayan Frontier Dungeon and the Road to Valhalla Frontier Dungeon. You will receive 25 Elegant Soul Fragments for each successful completion of these Frontier Dungeons.

Elegant Soul Details!

The Elegant Soul is a limited time event soul which guarantees a 3★ to 5★ character of any class. This soul has a 2x chance of summoning 5★ non-highlight characters and an exclusive chance of summoning the 5★ Magus Catrina Rosa.

Each Elegant Soul summoned will also grant the following bonus rewards:
10 Catrina Rosa Soul Fragments
20 Talisman Gold Red Soul Fragments

Collecting 500 Catrina Rosa Fragments guarantees one 5★ Magus Catrina Rosa!

400 Talisman Gold Red Soul Fragments guarantees a Tier 1 to Tier 3 Gold or Red Cosmic Talisman and 5★ Gold Idol.

Galactic Credits is the event currency of our Intergalactic Performance event running until November 30th 4pm PT.

Trade your Galactic Credits in the Event Store for rare rewards including Neon Cybermetal Eddie, Cosmic Saga Final Frontier Talismans and more!