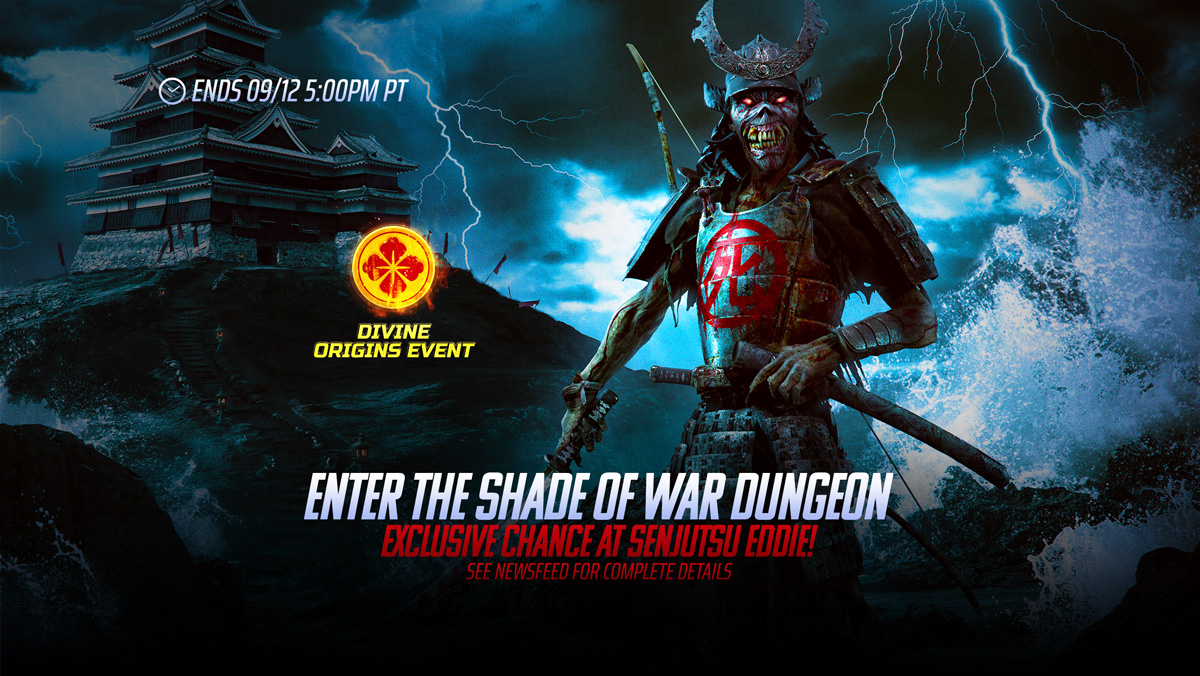 02 Sep

The Shade of War (Dungeon) – Exclusive Chance at 5★ Senjutsu Eddie

Slicing through the wicked and corrupt, Senjutsu Eddie stands as a warrior against tyranny. Working well alongside those who follow the Bushido Code, this Eddie will quickly make work of weaker enemies while having the ability to grant a Bushido Code to those of pure spirit. With his fury, players will find Senjutsu Eddie a difficult warrior to fell.

Get full character details in the Compendium!

From now until September 12th, 5 PM PT, battle through 4 difficulty settings in the Shade of War dungeon for awesome rewards and an exciting new storyline! Bonus: Receive a FREE Samurai Eddie the first time you complete The Shade of War dungeon on 'Normal'.

Follow Senjutsu Eddie and Mitsuko, Cosmic Shinobi into battle! These 2 characters will be permanent companions anytime you battle on 'Normal' difficulty, leaving you 2 character slots to bring the allies of your choice.

The first time you complete Normal, Hard or Madness, you will earn set rewards including:

Strategic Souls
Aquarius Talismans (Shield Subtype)

Your first Insanity run will grant T3 2★ Cosmic Evo Runes and Talisman Epic Soul Fragments.

All subsequent victories are guaranteed to provide:

Tactician Plans
Dungeon Fragments
A chance of up to 2 bonus rewards, including: Viper Talismans (Safeguard Subtype).

Tactician Plans can be traded in store for Strategic Souls in bundles of 1, 3 and 10, Cosmic Mongol Talismans, and Senjutsu Eddie himself.

Note: At the end of this event, any unspent Currency will be automatically converted into Dungeon Soul Fragments at a 10% rate.

Completing Event Challenges will grant various other rewards, including more Tactician Plans, Magus Souls, new Courage Talismans (Safeguard Subtype) and Heavenly Currency!

Courage Talismans are red talismans with a 5-set effect. Equipping this set will do the following:

Reduce damage by 60%. Whenever an ally deals damage to an enemy, if that enemy is above 50% HP, grant Guard Shield and Sacrifice for 1 turn to that ally. Whenever another ally dies, gain Perfect Revenge and Echo for 3 turns. Remove Fear, Exhaust, Stop and Seal from each ally after every action. For each ally affected in this way, permanently increase their ATK, MAGIC, DEF and MR by 200% for 1 turn and have them deal a hit of true damage to a random enemy.

Strategic Soul Details!

The Strategic Soul is a limited time event soul which guarantees a 3★ to 5★ character of any class and a 2x chance of summoning 5★ non-highlight characters. This soul has an increased chance of summoning Shinobi and Inugami characters, and has an exclusive chance of summoning 5★ Assassin Senjutsu Eddie.

Each Strategic Soul summoned will also grant the following bonus rewards:
10 Senjutsu Eddie Soul Fragments
10 Shinobi Soul Fragments
10 Mythical Soul Fragments
20 Talisman Gold Red Soul Fragments

1000 Senjutsu Eddie Fragments guarantees 1 5★ Assassin Senjutsu Eddie.

350 Shinobi Soul Fragments guarantees any class of 4★ Shinobi or a 5★ Cosmic Shinobi!

400 Talisman Gold Red Soul Fragments guarantees a Tier 1 to Tier 3 Gold or Red Cosmic Talisman and 1★ Gold Idol.

Note: All Event Souls in the month of September will contain Shinobi Soul Fragments. Free Souls from each event will guarantee at least 1 Shinobi for your collection. Don't convert your fragments until the end of the month so you can take full advantage of this opportunity!

Heavenly Currency is the event currency of our Divine Origins event running from September to the end of November.

Trade your Heavenly Currency in the Event Store for rare rewards including Amaterasu, Zodiac Talismans and more!