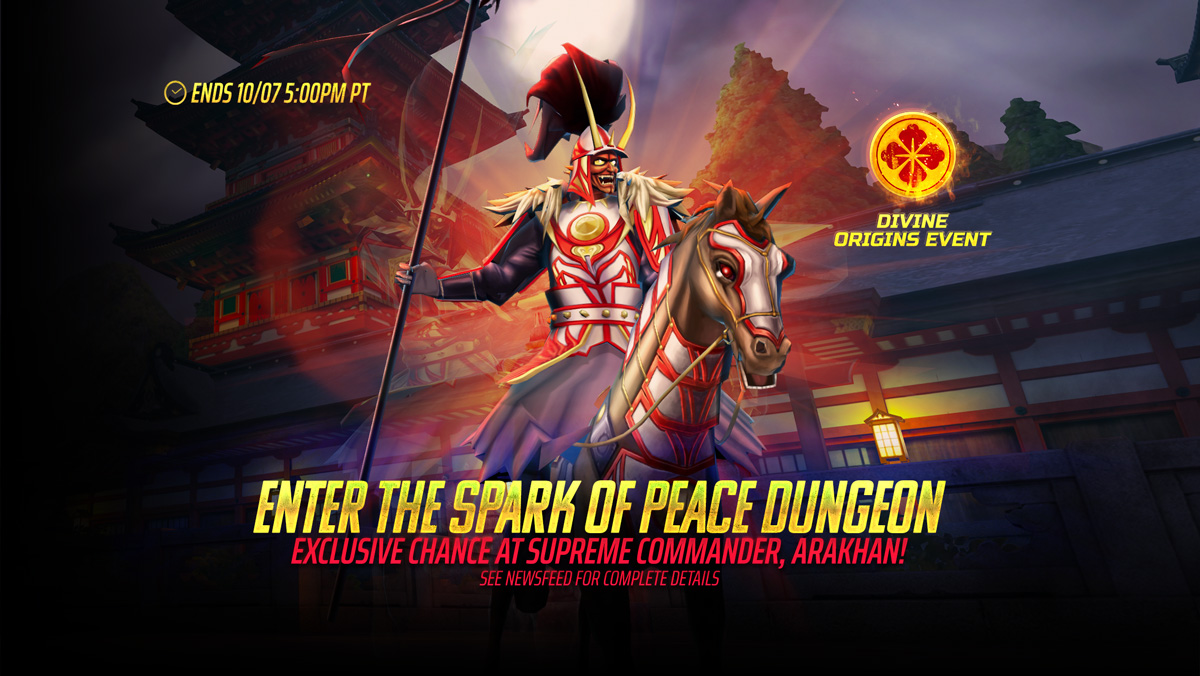 30 Sep

The Spark of Peace (Dungeon) – Exclusive Chance at 5★ Supreme Commander, Arakhan

Deal with a demon
Victim of a victor's pact
Ride into darkness

Supreme Commander of the Mongolian forces, Arakhan has made an unholy pact with a mysterious entity calling itself Otakemaru. Serving his soldiers to the corruption, his army has been blessed with the power needed to take the Japanese isles. Strike into the hear of you enemy with Arakhan, providing benefits for your Corruption. Pair the fearsome Demon King with other Oni infused characters for an additional dark boon!

Supreme Commander, Arakhan is the special edition version of Ghengis Khan, and comes with the all new passive 'The Demon King'!

Get full character details in the Compendium!

From now until October 7th, 5 PM PT, battle through 4 difficulty settings in the Spark of Peace dungeon for awesome rewards and an exciting new storyline!

The first time you complete Normal, Hard or Madness, you will earn set rewards including:

Corrupted Souls
Metal Talismans (Skilled Subtype)

Your first Insanity run will grant T3 2★ Cosmic Evo Runes and Talisman Epic Soul Fragments.

All subsequent victories are [b]guaranteed[/b] to provide:

Demonic Currency
Dungeon Fragments
A chance of up to 2 bonus rewards, including: [B]Riposte Talismans (Shield Subtype)[/B].

Demonic Currency can be traded in store for Corrupted Souls in bundles of 1, 3 and 10, Cosmic Oni Eddie Talismans, and Supreme Commander, Arakhan himself.

Note: At the end of this event, any unspent Currency will be automatically converted into Dungeon Soul Fragments at a 10% rate.

Completing Event Challenges will grant various other rewards, including more Demonic Souls, Magus Souls, Temperance Talismans (Skilled Subtype) and Heavenly Currency!

Corrupted Soul Details!

The Corrupted Soul is a limited time event soul which guarantees a 3★ to 5★ character of any class and a 2x chance of summoning 5★ non-highlight characters. This soul has an increased chance of summoning Oni Eddie, and has an exclusive chance of summoning 5★ Warrior Supreme Commander, Arakhan.

Each Corrupted Soul summoned will also grant the following bonus rewards:
10 Supreme Commander, Arakhan Soul Fragments
10 Mythical Soul Fragments
20 Talisman Gold Red Soul Fragments

750 Supreme Commander, Arakhan Fragments guarantees 1 5★ Warrior Supreme Commander, Arakhan.

400 Talisman Gold Red Soul Fragments guarantees a Tier 1 to Tier 3 Gold or Red Cosmic Talisman and 1★ Gold Idol.

Heavenly Currency is the event currency of our Divine Origins event running from September to the end of November.

Trade your Heavenly Currency in the Event Store for rare rewards including Amaterasu, Zodiac Talismans and more!