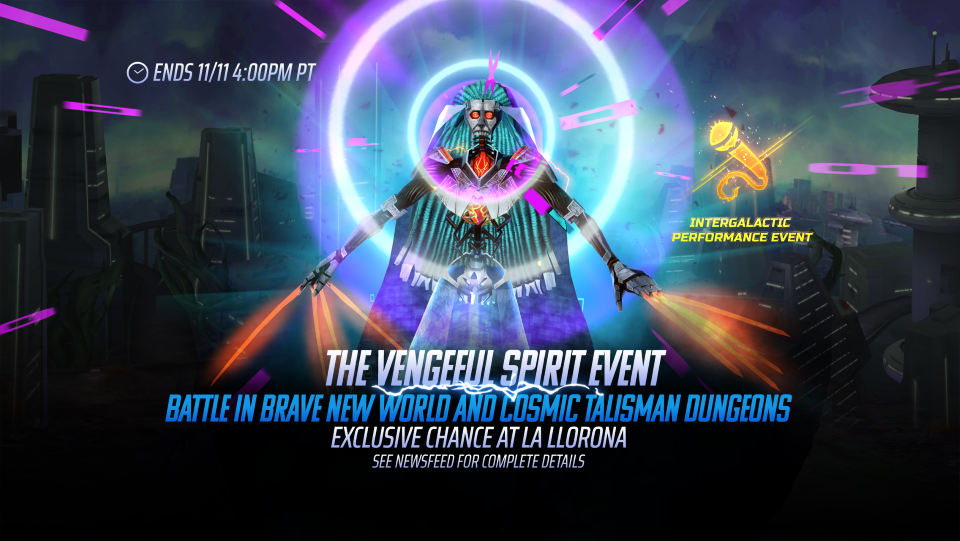 03 Nov

The Vengeful Spirit (Brave New World) – Exclusive chance at La Llorona!

From now until November 11th at 4PM PDT, battle in the Brave New World and Cosmic Talisman Dungeons for a chance of earning Spherical Curios. If you battle in Brave New World, Spherical Curios drop in amounts of 5, 10 or 25. If you battle in the Cosmic Talisman Dungeons, Spherical Curios drop in amounts of 10, 20 or if you're really lucky, 50!

Spherical Curios can be traded in store for Weeping Souls, Cosmic Talisman Bundles and La Llarona herself.

Note: At the end of this event, any unspent Currency will be automatically converted into Precious Soul Fragments at a 5% rate.

Weeping Soul Details!

The Weeping Soul is a limited time event soul which guarantees a 3★ to 5★ character of any class. This soul has an exclusive chance of summoning 5★ La Llorona.

Each Weeping Soul summoned will also grant the following bonus rewards:
10 La Llorona Soul Fragments
10 Mythical Soul Fragments
20 Talisman Gold Red Soul Fragments

750 La Llorona Soul Fragments guarantees a 5★ Assassin La Llorona

400 Talisman Gold Red Soul Fragments guarantees a Tier 1 to Tier 3 Gold or Red Cosmic Talisman and 5★ Gold Idol.

Galactic Credits is the event currency of our Intergalactic Performance event running until November 30th 4pm PT.

Trade your Galactic Credits in the Event Store for rare rewards including Neon Cybermetal Eddie, Cosmic Saga Final Frontier Talismans and more!