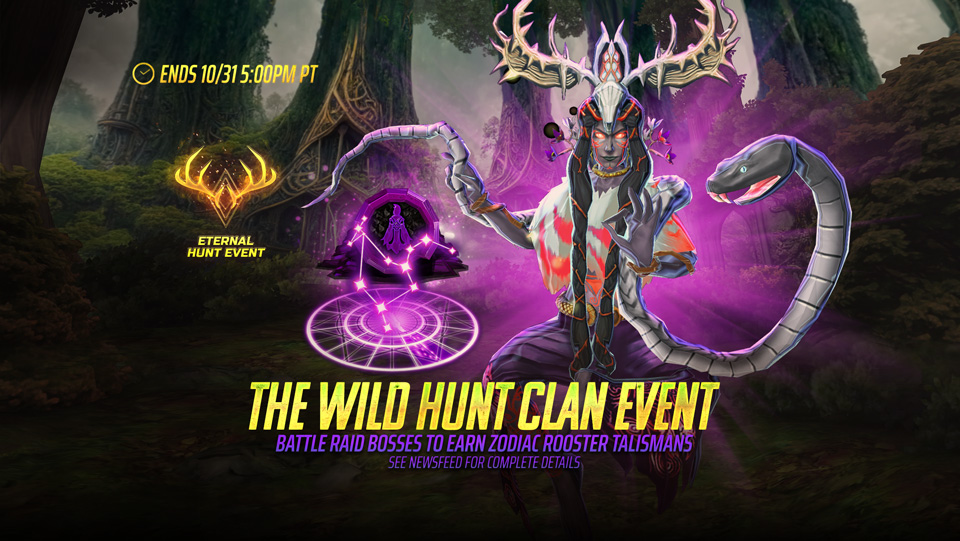 24 Oct

The Wild Hunt (Raid Boss) – Battle Raid Bosses to earn Zodiac Rooster Talismans

From now until October 31st at 5PM PDT, complete Clan event challenges in Raid Boss to earn rewards such as Clan God Soul Fragments, Polished Gemstones, Gunner Awakening Shards, Wild Artifacts and more!

Polished Gemstones are also dropping as a reward in Raid Boss battles. Polished Gemstones will drop in amounts of 50, 100, 150 or 200!

Polished Gemstones can be traded in store for various Awakening materials and new Zodiac Rooster Talismans.

The Zodiac Rooster Talisman is a purple talisman with a 2-set effect. Equip this talisman set to gain the following effects:

50% Chance to heal 20% of MAX HP on round start. Whenever another ally is attacked, heal 5% of MAX HP.

Gain the following Ascendant Effect if any other Zodiacal Talismans are active on self:

Immunity to Stun Effects, Taunt Effects and Sleep Effects, Freeze Effects, Burn Effects. When an ally reaches 1 HP for the first time each turn, grant them Endure for 3 turns and heal 20% of MAX HP.

Note: At the end of this event, any unspent Currency will be automatically converted into Tribute at a 10% rate.

BONUS: Earn double the normal amount of Wild Artifacts from Event Challenges! This is the final Eternal Hunt event, so be sure to complete as many challenges as you can to increase your Wild Artifact Currency!

Wild Artifacts are the event currency of our Eternal Hunt event running until October 31st.

Trade your Wild Artifacts in the Event Store for rare rewards including the Cernunnos, Zodiac Talismans and more!

As noted above, this is the FINAL Eternal Hunt associated event. Once this event is over you will no longer be able to earn Wild Artifacts. You will need to spend all the Wild Artifacts you have by November 5th at 5pm PT, at which point the Mega Event store items will disappear and your currency will convert!