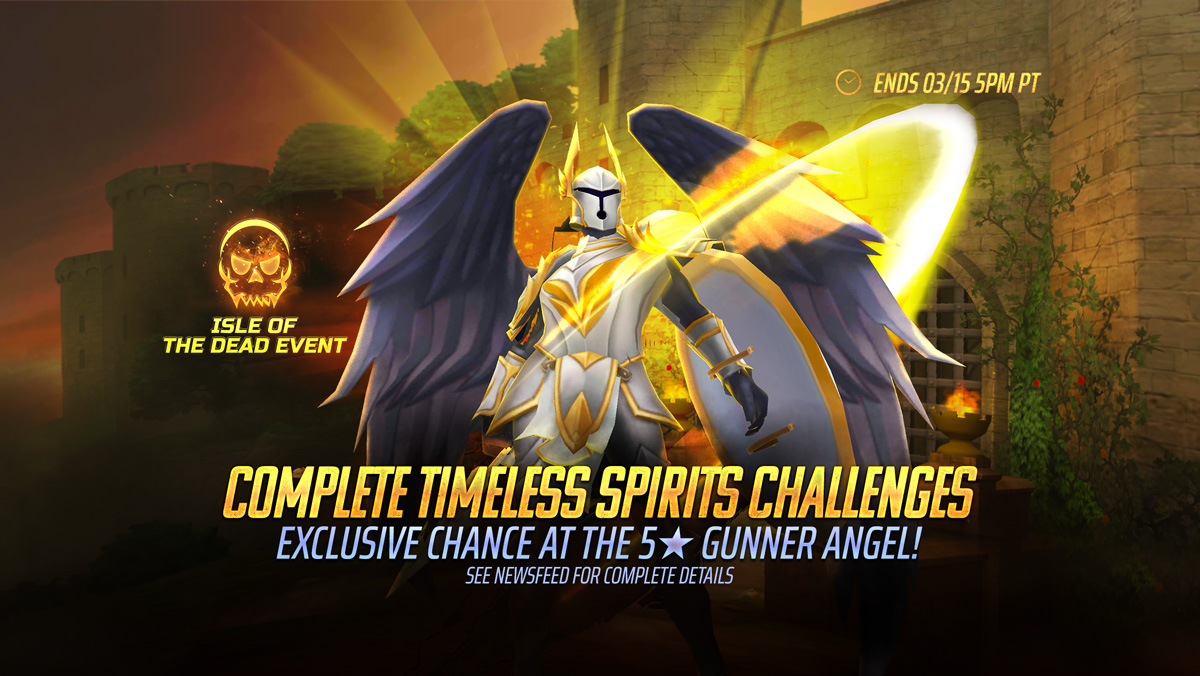 08 Mar

Timeless Spirits (Sands) – Exclusive Chance at The Gunner Angel!

Collect a new 5★ Gunner!

Strike with the might of Avalon! The Gunner Angel pummels enemy teams with various Burn effects and supports their team by giving allies Perfect Immortality, Perfect Revenge and Perfect Immunity. Pair the Gunner Angel with Gabriel, or the upcoming Sentinel Angel to generate additional Fury after each action!

Get full character details in the Compendium!  

From now until March 15th at 5PM PDT, complete a mix of individual and Clan event challenges to earn rewards such as Blinding Souls, Ethereal Currency, Festive Awakening Shards, Lost Souls Currency and more! 

Ethereal Currency can be traded in store for Cosmic Navigation and Cosmic Parcel Talismans as well as Cosmic Evo Materials! 

Lost Souls Currency is the event currency of our Isle of the Dead event running throughout March.

Trade your Lost Souls Currency in the Event Store for rare rewards including Merlin Eddie, Cosmic Wizard Talismans and more!

You can learn more about this featured event in the Isle of the Dead event post here!

Blinding Soul Details!

Blinding Souls can be earned via event challenges, and are also sold for Ironite in packs of 1, 3 and 10.

The Blinding Soul is a limited time event soul which guarantees a 3★ to 5★ character of any class and a 2x chance of summoning 5★ non-highlight characters. It also has an EXCLUSIVE chance of summoning 5★ Gunner Angel.

Each Blinding Soul summoned will also grant the following bonus rewards:
10 Gunner Angel Soul Fragments

10 Mythical Soul Fragments

20 Talisman Gold Red Soul Fragments
500 Gunner Angel Soul Fragments guarantees 1 5★ Gunner Angel.
400 Talisman Gold Red Soul Fragments guarantees a Tier 1 to Tier 3 Gold or Red Cosmic Talisman and 5★ Gold Idol.
Notes on Clan Event Challenges:
Players can join a Clan part way through an event in order to obtain these extra Event Challenges.
If you are removed from your Clan, or choose to Leave a Clan during the event, you will no longer be able to participate in the Clan Event Challenges. After the 24 hour cooldown you can then join a different Clan. This will give you access to any active Clan Event Challenges, and any Clan Group Challenges will be updated to the current total for your new Clan. If the Clan has already completed and claimed a Clan Group Challenge, the new member will not be able to claim that reward. Players will not gain double rewards by Clan hopping.