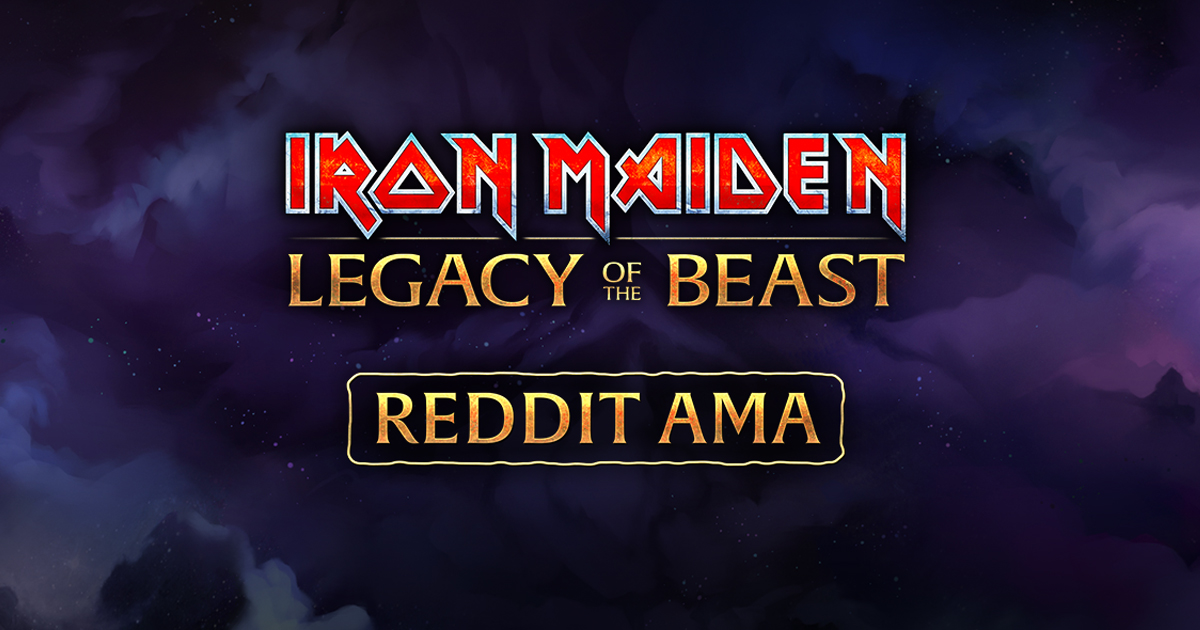 20 May

Top 6 AMA Questions

On April 8 our team hosted an AMA on reddit's Metal subreddit. Huge thanks to everyone who participated and helped make the event such a success.

Legacy of the Beast Game Director Hamish Millar, Producer Matt Wiggins, and Phantom Music Management's Creative Director, Llexi Leon had a blast answering questions. We received a ton of inquiries during the AMA, and here's the  TOP 6 AMA QUESTIONS.

Hey guys! I'm super stoked for this game, saw Maiden live last week in Montreal and still super pumped about it.

My question is, do you guys think you'll ever expand to a larger platform in the future, say, PC or console? I think a full size Maiden game would be really cool (Though I do understand that's it's a lot of work + time + money).

Thanks!
Answer from Hamish_LOTB

Great question. In many ways we saw mobile as being the larger platform. Given the huge size and diversity of the Maiden fanbase, it felt like about the right time in the evolution of mobile that we can reach as many fans as possible with a gaming experience of the fidelity that the band and their fans would expect.

For now, we're going to remain focused on ensuring we get the game right on phones and tablets. If then you guys think we've done a great job and would like to see that experience extended to consoles and PC, that's is something we would consider for sure.
Will any new/unreleased music like live versions be put into the game??
Answer from Matt_LOTB

Yes!

Much of the game music is derived from live recordings featuring the current line-up of the band. In many cases, those recordings have never been released featuring that line-up.

Our audio guys worked closely with the band and their production team to bring the music into the game at a very high level of fidelity, and the live tracks provide an incredible energy to the game.

Answer from Llexi_LOTB

We worked with Steve Harris to pick out a selection of live performances from throughout the band's career and those previously unreleased recordings were remixed and mastered by Tony Newton (Iron Maiden's live sound engineer) with Steve's input.

This will be the first time a mobile game has had a bespoke soundtrack with such incredible production values.
Hi. Has there been any involvement from the band themselves in developing the game whatsoever?
Answer from Llexi_LOTB

We've covered this a bit elsewhere in the thread but absolutely, and in particular you may be interested to know that Steve Harris selected archived live recordings to be included in the game, which were then remixed for the game under his guidance by Iron Maiden's live sound engineer Tony Newton.

Tony and Steve worked in conjunction with Roadhouse's sound designers to overcome a great many technical challenges and ensure that the game could be set to music from the band's entire catalogue. Maiden's longtime manager Rod Smallwood and I worked closely with Roadhouse and some fantastic writing talent to craft a narrative that all the band members could get behind, weaving in plenty of lyrical lore along the way.
Can you describe the action elements of the game. Is combat turn based? Is there a world map freely roamable or is it stages? What games did you take inspiration from and which best demonstrate the type of game Legacy of the Beast is going to play like?
Thanks guys 🙂
edit: Also what other games has your studio produced in the past?
Answer from Matt_LOTB

Hi Bizzyqu!

For Legacy of the Beast, we've built a turn-based battle system, that has elements in common with games like the Final Fantasys, the Paper Marios, and a number of mobile games. You will be able to assemble a party of characters with a diverse set of skills, and take them into battle against waves of enemies bent on your demise!

We've worked to keep battles interesting, innovative, and fun so you'll be able transform between different forms of Eddie, access different sets of skills, improve your performance in battle with skill-based interactions, and unleash awesome, devastating special attacks! it's great fun, and looks awesome when it's in motion.

The game worlds are staged out, bearing some similarity to the layout of Mario 3.

Some of the other games from our studio include: – Warhammer 40,000: Carnage – Red Bull Air Race (I was producer on this project) – Red Bull Bike Unchained – Food Battle: The Game (Hamish was the Game Director of this as well)
Follow up from bizzyqu
Thanks for the response, I loved the paper mario series and how they implemented timing mechanics to the turn based combat, looking forward to it. Also what kind of replayability have you built into the game?
Follow up from Matt_LOTB

We have included challenge objectives for each battle, multiple difficulties, and a variety of other features to keep you coming back to the game, and we plan to roll out new content including a PvP mode in the future.
QUESTION 5 FROM flatcap_monty:
When I saw that there was to be an Iron Maiden game I was dead excited, but then I saw that it was "free-to-play."
I really want to believe in this, as Maiden are my favourite band, but I am concerned that the nature of the game is going to require the pumping in of constant real-world cash to make any progress. Are you able to assuage these doubts?
Answer from Matt_LOTB

Hi flatcap_monty!

Let me try to assuage your fears. Yes, the game is a free to play experience, however, none of us on the dev team are a fan of hard line, abusive monetization systems that milk you for cash in order to keep playing. We wanted to make a game that you could play complete from beginning to end without ever spending a cent and still have a great experience. There will be in app purchases in the game, and they will serve to accelerate your progress, but we didn't want to go the route of pay to win.

The members of the dev team all grew up on classic console games, and our objective here is to make a fantastic game that honours the legacy and quality you've come to expect from Iron Maiden. that's been our goal from day one, and we hope you feel that we've succeeded when the game releases.
What inspired the creation of this game?
Answer from Hamish_LOTB

It all started because we have a Maiden-crazed CEO here at Roadhouse. He is a hardcore fan and wanted to pitch the band on making a game.

I worked with him and a small team with mobile RPG experience to put together an initial deck that excited the band enough to say yes. Apparently they've previously said no dozens of times to the point that it was clear they had no interest in making another game but our knowledge of the lore, the concept of the game and our dedication to making it awesome won them over.
Follow up from neuromesh
This answer gives me so much faith in the game, made out of love for Eddie and the lore rather than just 'hey Iron Maiden want a game'
Want to read the whole AMA? Follow this link!