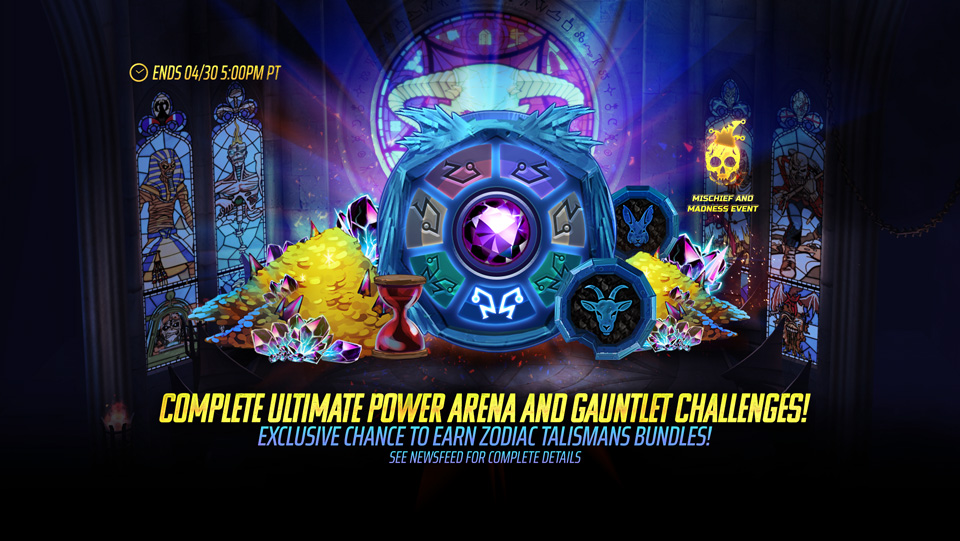 23 Apr

Ultimate Power (Arena & Gauntlet) – Exclusive chance to earn Zodiac Talismans bundles!

From now until April 30th at 5PM PT, complete event challenges in the Arena and Gauntlet for rewards including Gravox Ingots, various awakening shards, Iron Coins, Alchemical Elixirs and more!

See the Challenge menu for full details!

Gravox Ingots can be traded in for the following talisman bundles:
▫️Tiger, Pig, and Cosmic Compassion
▫️Goat, Rabbit, Cosmic Restraint
▫️Horse, Dog, Cosmic Charity
▫️Dragon, Monkey, Cosmic Purity
▫️Snake, Rooster, Cosmic Patience

This event is the perfect opportunity to complete your set of Zodiac Talismans to outfit your team.

Alchemical Elixirs is the event currency of our Mischief and Madness event running until May 9th 5pm PT.

Trade your Alchemical Elixirs in the Event Store for rare rewards including 5⭐ Shattered Mind Eddie, Cosmic Saga Somewhere In Time and Senjutsu Talismans and more!

You can learn more about this featured event in the Mischief and Madness event post!

Finally, we have a few deals available in the store to help you complete the challenges ahead:

📣 Grab an additional boost of Event Currency to trade for more items in the Event Store. This pack also contains Gold Red Talisman Soul Fragments, Frontier Coins, Ironite and more!