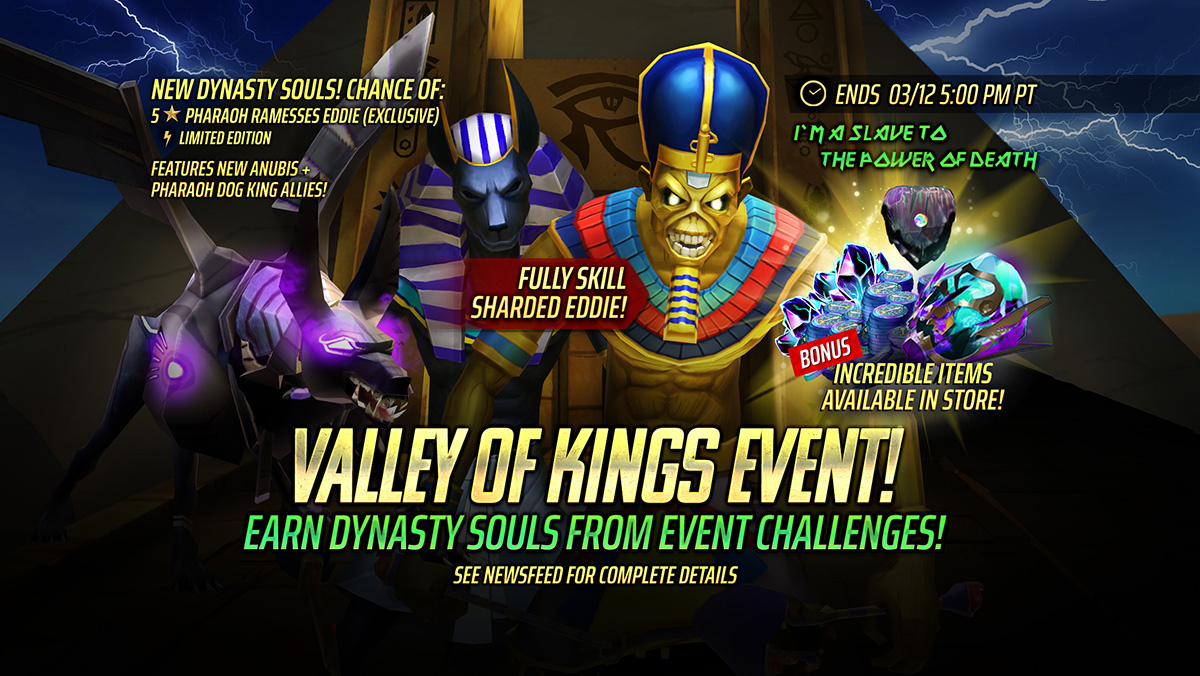 04 Mar

Valley of Kings- Earn Limited Edition version of Pharaoh Eddie – Event on NOW!

Debut of new Powerslave characters!

Pharaoh Ramesses Eddie, 2 new Pharaoh Dog Kings, and 4 classes of Anubis are making their Legacy of the Beast debut!

From now until March 12th at 4 PM PT, complete Event Challenges to earn Dynasty Soul Fragments, Cosmic Talisman Evolution Materials and more!

All 7 new characters are highlighted in the Dynasty Soul. The Dynasty Soul is a limited time event soul which guarantees a 3⭐ to 5⭐ character of any class, with an increased chance of 2 Pharaoh Dog Kings (Assassin and Gunner) 2 versions of Anubis (Assassin and Sentinel), PLUS an exclusive chance of Pharaoh Ramesses Eddie and the Magus & Warrior Anubis!

Dynasty Souls can be earned in one of three ways:
There are Event Challenges that will grant you Dynasty Soul Fragments. Getting 200 fragments will earn you a Dynasty Soul, with up to 10 Souls that can be earned from challenges over the course of the event.

Purchase special limited time items in the store using a variety of in-game currencies to complete all of these challenges! See a full list of available items in the Specials Store, and in the game newsfeed!

Packs of Dynasty Soul Fragments are available in-store for Gold!
The store offers Dynasty Souls for Ironite in the usual bundle sizes of 1, 3, or 10.
Dynasty Souls contain the following highlights:
Exclusive Chance of:
Pharaoh Ramesses Eddie (5⭐ Sentinel): This limited edition version of Pharaoh Eddie comes fully skill sharded and armed with the Ozymandias passive, replacing the regular Pharaoh Eddie's fury attack.
Ozymandias makes your Eddie unstunnable, grants Immunity and cleanses negative effects from allies at the start of your turn. This passive will also revive upon death with Invincibility for 1 turn.
Pharaoh Ramesses Eddie is ONLY available in the Dynasty Soul.
Anubis (4⭐ Magus): A highly defensive Magus character that removes beneficial effects off enemies, while passively granting defensive effects to his allies.
Anubis (3⭐ Warrior): A durable high single-target damage dealer with crowd control capabilities.
The Magus and Warrior Anubis are ONLY available in the Dynasty Soul. While they will occasionally be featured in Heroic Soul Rotations, these characters will NOT be added to any other Souls, making the Dynasty Soul your best shot at securing them.
Increased Chance of:
Pharaoh Dog King (5⭐ Gunner): A damage blocker that deals hybrid damage.
Pharaoh Dog King (5⭐ Assassin): A team reviver that heals and removes negative effects including silver effects.
Anubis (4⭐ Assassin): A team empowering character that gives all allies Immunity to Doom, Curse, and Permadeath.
Anubis (3⭐ Sentinel): A team wide healer who passively heals a random ally based on their missing HP every turn.
Each Dynasty Soul summoned will also grant bonus rewards of 10 Gunner Pharaoh Dog King Fragments, and 10 Pharaoh Ramesses Eddie Soul Fragments.
Collecting 750 Pharaoh Dog Soul Fragments guarantees a Gunner Pharaoh Dog King, whereas 500 Pharaoh Ramesses Soul Fragments guarantees Pharaoh Ramesses Eddie–a fully skill sharded, limited edition version of Pharaoh Eddie!
Event Bonus: Completing event challenges will also earn you debut Present Talismans!
Present Talismans are red talismans with a 3 set effect! Equip a full set for a 35% Chance to remove Immunity and Inflict Punishment on the enemy for 2 turns. These talismans also grant Lifesteal to allies for 1 turn on each basic attack, and a 20% Chance to grant an Extra Turn to a random ally on each basic attack.
Start collecting Soul Fragments today -> http://m.onelink.me/49d39710