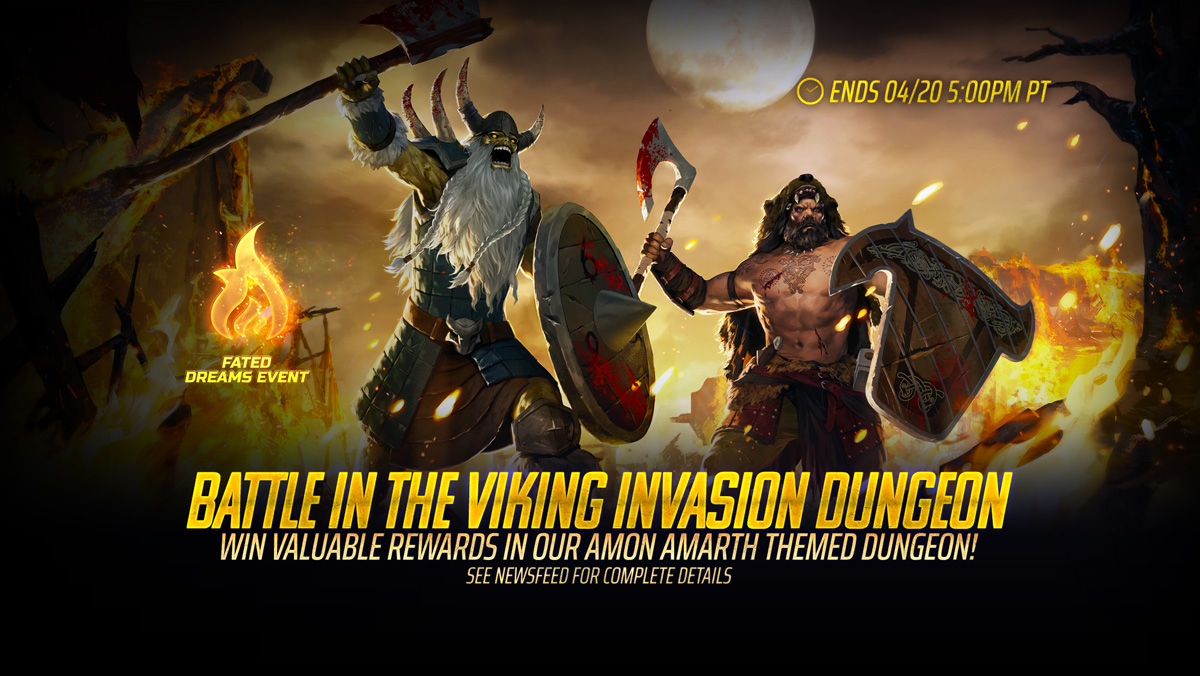 13 Apr

Viking Invasion (Dungeon) – Win Valuable Rewards in our Amon Amarth themed Dungeon!

It's a Viking Invasion! For our first in-game collaboration with another major music artist we've teamed up with Swedish melodic death metal heavy hitters Amon Amarth. We're bringing the fearsome Berserker who shares the name of Amon Amarth's newest album to Legacy of the Beast.

You can earn the Berserker for free just by logging in! The Berserker calendar is running from April 13 to May 12th. Log in any 7 days during that period to earn awesome rewards including the Berserker himself on the 7th day!

Discover the Berserker's story! From now until April 20th, 5 PM PT, battle in the Viking Invasion dungeon! This dungeon features an Amon Amarth themed script, 4 difficulty settings and is packed with valuable rewards!

The first time you complete Normal, Hard or Madness, you will earn set rewards including:
Vengeance Souls

Dominance Talismans (Fierce Subtype)
Your first Insanity run will grant T3 2★ Cosmic Evo Runes and Talisman Epic Soul Fragments.
All subsequent victories are guaranteed to provide:
Viking Currency

Dungeon Fragments

A chance of up to 2 bonus rewards, including: Revelation Talismans (Fierce Subtype).
Viking Currency can be traded in store for Vengeance Souls in bundles of 1, 3 and 10, and the new Warrior Angel!
Note: At the end of this event, any unspent Currency will be automatically converted into Dungeon Soul Fragments at a 10% rate. See our Event Currency guide here for more details on the system overall:
Completing Event Challenges will grant various other rewards, including more Viking Currency, Assassin Souls, new Sagittarius Talismans (Fierce Subtype) and Nightmare Currency!
Sagittarius Talismans are a red talisman with a 3-set effect. Equipping this set will do the following:
Gain Accuracy Up and Perfect Hit for 1 turn, at the start of battle and at the start of your turn. Gain Perfect Accuracy Up and Golden Hit for 1 turn instead, if at 50% HP or below. 50% chance to gain Vanish for 1 turn whenever you take damage.
Gain the following Ascendant Effect if any other Zodiacal Talismans are active on self:
Heal each ally by 50% of their MAX HP if they have 3 or more Negative effects, including Silver effects after each action. Deal 3 additional hits of magical damage based on your ATK, to random enemies, after each action.
Nightmare Currency is the event currency of our Fated Dreams event running throughout April.
Trade your Nightmare Currency in the Event Store for rare rewards including Infinite Dreams Eddie, Cosmic Biker Talismans and more!
You can learn more about this featured event in the Fated Dreams event post here!
Vengeance Soul Details!
The Vengeance Soul is a limited time event soul which guarantees a 3★ to 5★ character of any class. This soul has an exclusive chance of summoning 5★ Warrior Angel.
Each Vengeance Soul summoned will also grant the following bonus rewards:
10 Warrior Angel Soul Fragments

10 Mythical Soul Fragments

20 Talisman Gold Red Soul Fragments
500 Warrior Angel Soul Fragments guarantees 1  5★ Warrior Angel!