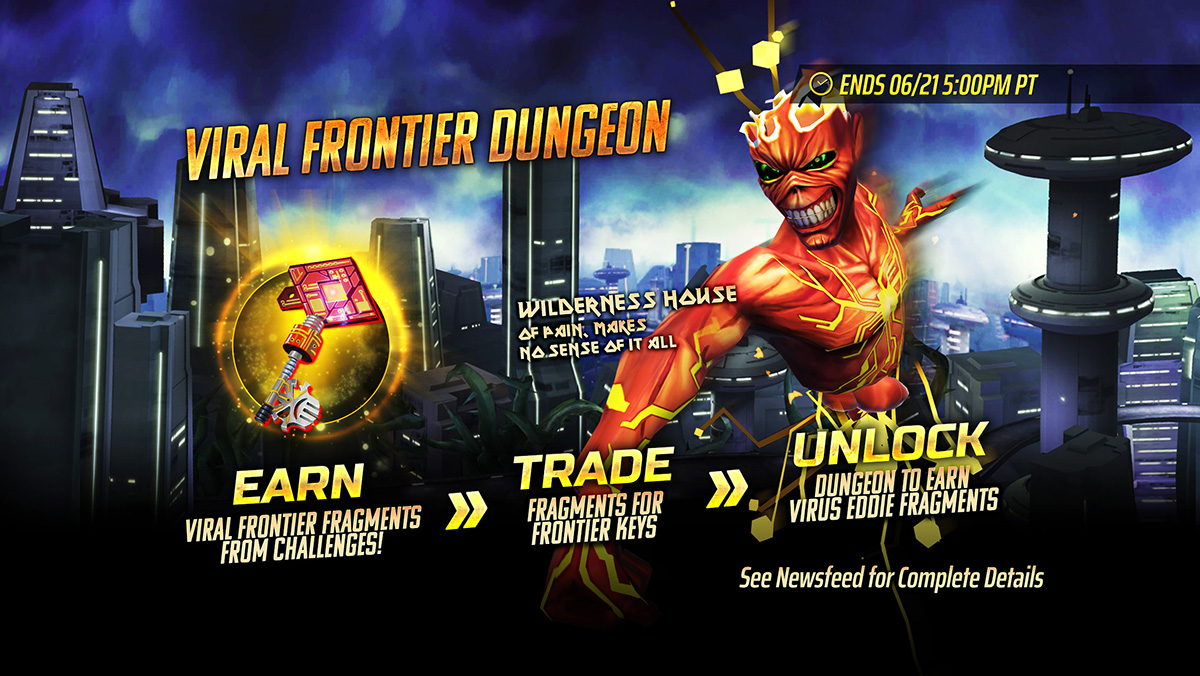 15 Jun

Viral Frontier Event on NOW- Battle for Virus Eddie!

Use Frontier Keys to unlock a new Dungeon!

Infect and dominate! Virus Eddie is making his Legacy of the Beast debut.

Virus Eddie is a 3⭐ Warrior that deals additional true damage for each negative effect on the enemy. This multi-target damager can inflict HP Drain on enemies for 2 turns, revive an ally with full HP, and give HP Regen to all allies.

From now until June 21st, 5 PM PT, claim new Frontier Keys and unlock the Viral Frontier Dungeon! This Dungeon comes with its own unique storyline (viewable the first time you complete Normal difficulty), and let's you work towards a GUARANTEED Virus Eddie!

Even if you are unable to secure enough character fragments to earn this character during the event, the Viral Frontier Dungeon will be available again in the future. That means you'll be able to keep collecting Virus Eddie fragments at a later date, so be sure to hold on to everything you earn!

How to earn Virus Eddie Fragments!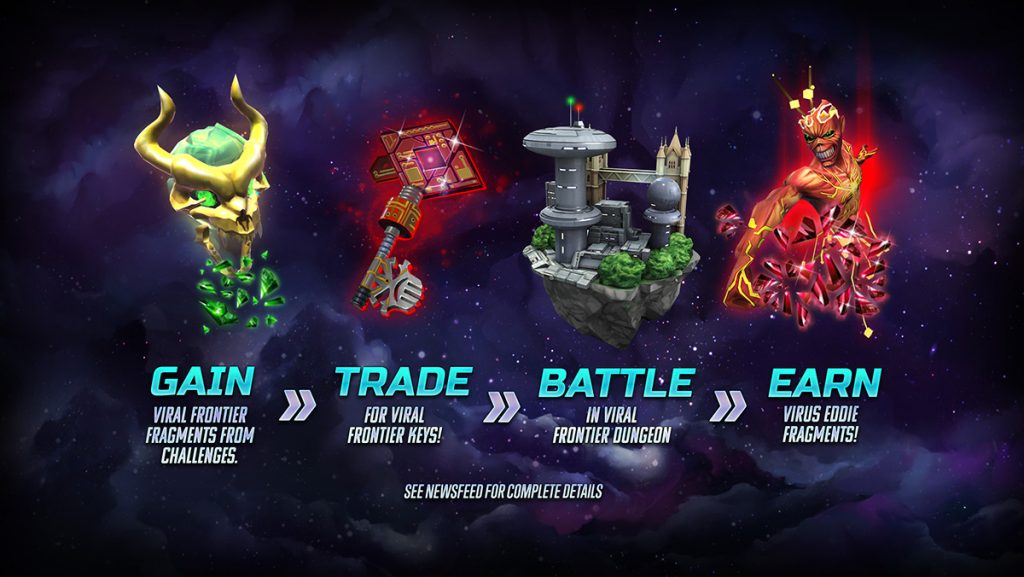 Step 1: Complete Event Challenges in Brave New World.
Battle in Brave New World to complete Viral Frontier Event Challenges! These challenges will grant a variety of rewards, including Viral Frontier Fragments, Talisman Soul Fragments and Cosmic Evo Runes!
You can earn up to 1000 Viral Frontier Fragments from Event Challenges.
Step 2: TRADE Viral Frontier Fragments for Viral Frontier Keys in Store!
Head to the Event Store and trade in the Viral Frontier Fragments you've earned for Viral Frontier Keys!
50 Viral Frontier Fragments = 1 Key
You have the chance to gain up to 20 Keys total during this event.
As soon as you claim your Key from the Event Store, the Viral Frontier Dungeon will unlock in the Time Rift!
Step 3: BATTLE in the Viral Frontier Dungeon to EARN Virus Eddie Fragments
Head to the Time Rift and battle in the Viral Frontier Dungeon! Once it is unlocked, this Dungeon will be open for 16 hours total, and can be played through 15 times during that period.
The first time you complete one of the 3 floors available, you will receive set rewards including Frontier Coins and unique Cosmic Evo Materials like, Starlight and Black Rain. All subsequent victories are guaranteed to provide Virus Eddie Soul Fragments, as well as a chance of up to 2 bonus rewards, including Ironite.
750 Virus Eddie Fragments = 1 Guaranteed Virus Eddie
See full Virus Eddie character details in the newsfeed!
Battle for Viral Frontier Keys today -> http://m.onelink.me/49d39710