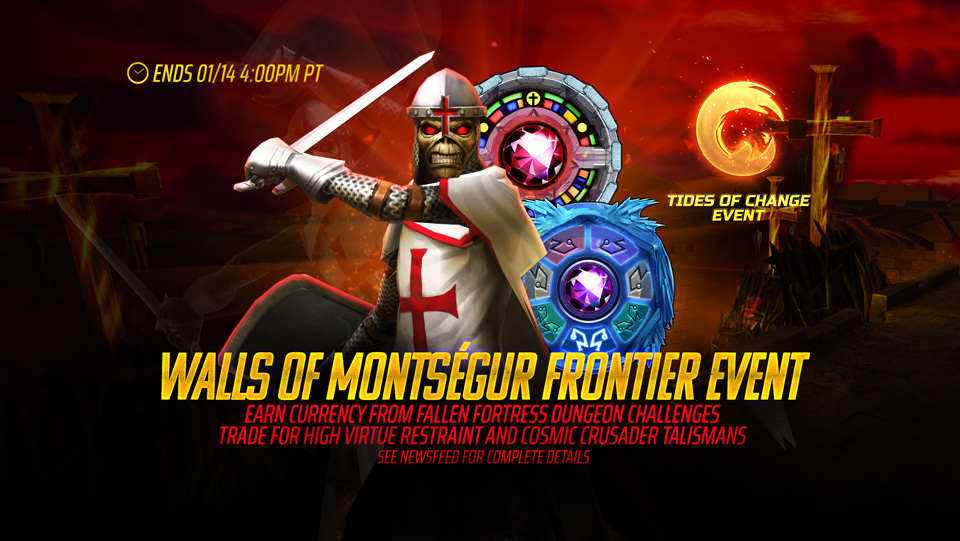 07 Jan

Walls Of Montségur – Earn Medieval Awakening Shards + Rare Cosmic Talismans

From now until January 14th at 4PM PT, complete Event Challenges in the Fallen Fortress Frontier Dungeon to earn a variety of rewards, including Charred Blades (the Walls Of Montségur Event Currency), Talisman Soul Fragments, Ritualistic Scripts and more!

You can access the Dungeon by:
Completing a repeatable event challenge (Spend 100 Sands of Time)
Claiming 1 free Key Soul in the store (this event only)
Purchasing Key Souls with Gold
Purchasing Key Souls with Frontier Coins.

More details on the Dungeon below!

Charred Blades can be traded in store for Medieval Awakening Shards, Cosmic Crusader Talismans and new Cosmic High Virtue Restraint Talismans!

This Cosmic High Virtue Talisman comes with the Restraint passive. T1 Talismans will disable enemy Gluttonous Talismans, T2 will disable enemy Gluttonous and Impulse Talismans, and the T3 will disable enemy Gluttonous Talismans, Impulse Talismans and Baphomet Character Passive abilities. The passive ability also does the following:

If another Talisman effect or Character Passive is disabled by this Talisman, gain the following:
• When an ally deals damage to one or more enemies for the first time since the start of the battle or when they last died, they deal a number of additional devastating hits of random damage to those enemies equal to the number of turns that have passed. If that number is 3 or more, they instantly kill a random enemy.

If no Talisman effects or Character Passives are disabled by this Talisman, gain the following:
• Grant immunity to all negative effects, including Silver effects, and all damage to all allies for 6 turns or until they damage an enemy for the first time since the start of the battle or when they last died.

Note: At the end of this event, any unspent Currency will be automatically converted into Precious Soul Fragments at a 10% rate.

Ritualistic Scripts is the event currency of our Tides of Change event running until February 3rd.

Trade your Ritualistic Scripts in the Event Store for rare rewards including Storm-Rider Killers Eddie, Cosmic Storm Herald Talismans and more!

Fallen Fortress Dungeon Details
Earn Templar Crusader Eddie by completing Fallen Fortress Dungeon Achievements!

Once it is unlocked, the Fallen Fortress Dungeon will be open for 2 hours total and can be played an unlimited amount of times during that period. This dungeon also comes with a restriction making it so only 4★ Magus and Assassin class characters can be used to play!

We have just added a second difficulty setting to this dungeon, so you can now take on both regular AND Hard settings. You can now gain progress on all Fallen Fortress Dungeon achievements on both Normal and Hard difficulties!

The first time you complete this dungeon, you will receive set rewards including a Legendary Soul, Talisman Soul Fragments and more. All subsequent victories are guaranteed to provide Evo Shards, as well as a chance of bonus rewards, including Babylon and Aim Talismans on Normal and Memorial and Metal Talismans on Hard.

The Fallen Fortress Dungeon has 6 Achievements associated with it. Complete 4 of these Achievements to earn Templar Crusader Eddie, the fully skill sharded Special Edition version of Crusader Eddie.

You can learn more about this character by checking the Compendium in the Book of Souls screen, and see full Achievement details in-game!

**IMPORTANT: If you purchase another Fallen Fortress Dungeon Frontier Key while the corresponding Dungeon is already open you will refresh that dungeon's countdown timer.