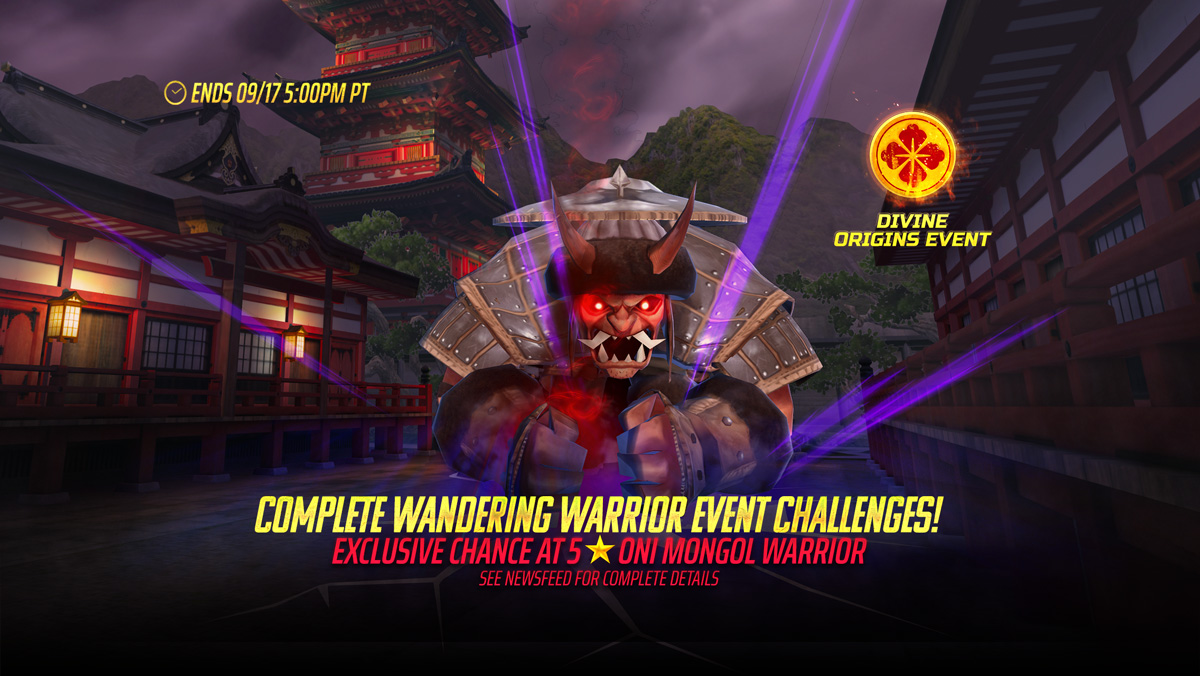 10 Sep

Wandering Warrior – Exclusive chance at the 5★ Oni Mongol Warrior!

Enhanced Warriors
Demonically corrupted
Hunger of the soul

Transformed into a brutish monster, some of the Mongolian forces have been chosen to take the dark gift of Oni corruption. Oni Mongol Warrior combines brute power with the ability to punish foes using Ghost and Dark Ghost. His ability to eat the soul of an enemy kills them instantly! Beware, for whenever the Oni Mongol Warrior is fed, his power grows by leaps and bounds.

From now until September 17th at 5PM PDT, complete event challenges to earn rewards such as Demon's Souls, Corrupted Blades, Evo Materials, Heavenly Currency and more!

Corrupted Blades are the event currency for the Wandering Warrior event and can be traded for in-store for Cosmic Hellfire Ammunition Talismans, Cosmic Valhalla Maiden Talismans and the 5* Oni Mongol Warrior.

Note: At the end of this event, any unspent Currency will be automatically converted into Precious Soul Fragments at a 10% rate.

Demon's Soul Details!

The Demon's Soul is a limited time event soul which guarantees a 3★ to 5★ character of any class This soul has a 2x chance of summoning 5★ non-highlight characters, an increased chance of summoning Monsters Bat Eddie and has an exclusive chance of summoning the 5★ Oni Mongol Warrior!

Each Demon's Soul summoned will also grant the following bonus rewards:
10 Oni Mongol Warrior Fragments
10 Shinobi Soul Fragments
10 Mythical Soul Fragments
20 Talisman Gold Red Soul Fragments

500 Oni Mongol Warrior Fragments guarantees 1 5★ Oni Mongol Warrior.

350 Shinobi Soul Fragments guarantees any class of 4★ Shinobi or a 5★ Cosmic Shinobi!

400 Talisman Gold Red Soul Fragments guarantees a Tier 1 to Tier 3 Gold or Red Cosmic Talisman and 5★ Gold Idol.

Note: All Event Souls in the month of September will contain Shinobi Soul Fragments. Free Souls from each event will guarantee at least 1 Shinobi for your collection. Don't convert your fragments until the end of the month so you can take full advantage of this opportunity!

Heavenly Currency is the event currency of our Divine Origins event running from September to the end of November.

Trade your Heavenly Currency in the Event Store for rare rewards including Amaterasu, Zodiac Talismans and more!