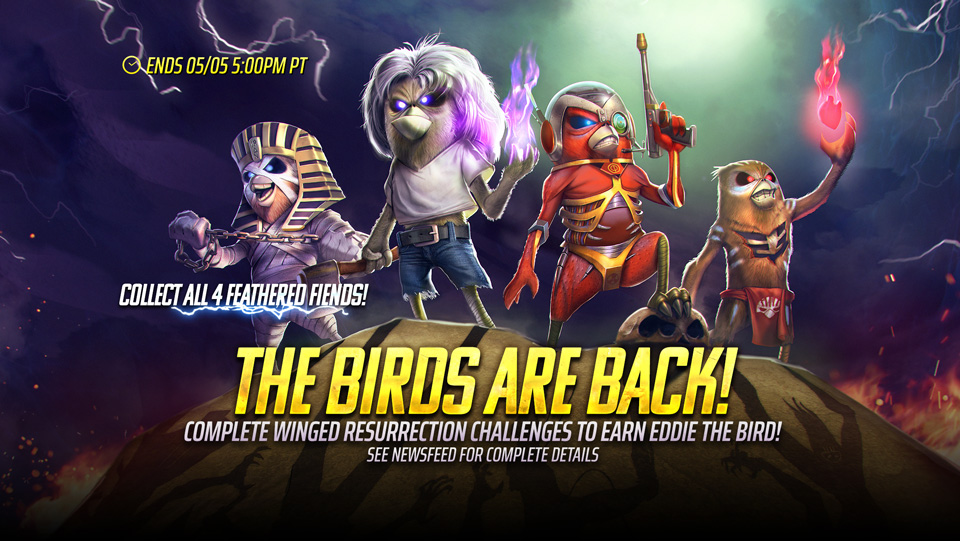 21 Apr

Winged Resurrection (Sands) – Collect all 4 Eddie the Bird characters!

They're back! Eddie has returned in his new avian forms to invade Legacy of the Beast once again!

Meet the flockers! Eddie The Bird has migrated back to Legacy of the Beast as four different collectable allies: Pharaoh "The Bird", Killers "The Bird", Shaman "The Bird", and Cyborg "The Bird". These characters take inspiration from their Legacy of the Beast Eddie counterparts, but are also equipped to fight [I]with[/I] their corresponding Eddie to double down on his strengths!

From now until May 5th at 5PM PDT, complete simple event challenges to earn Salvaged Trinkets! Salvaged Trinkets can be traded in store for the Birds of your choice! Each Bird costs 500 Salvaged Trinkets – earn 2000 Salvaged Trinkets to collect all 4!

The Angry Birds Evolution-inspired characters are a limited time addition and are only available for the duration of this event.