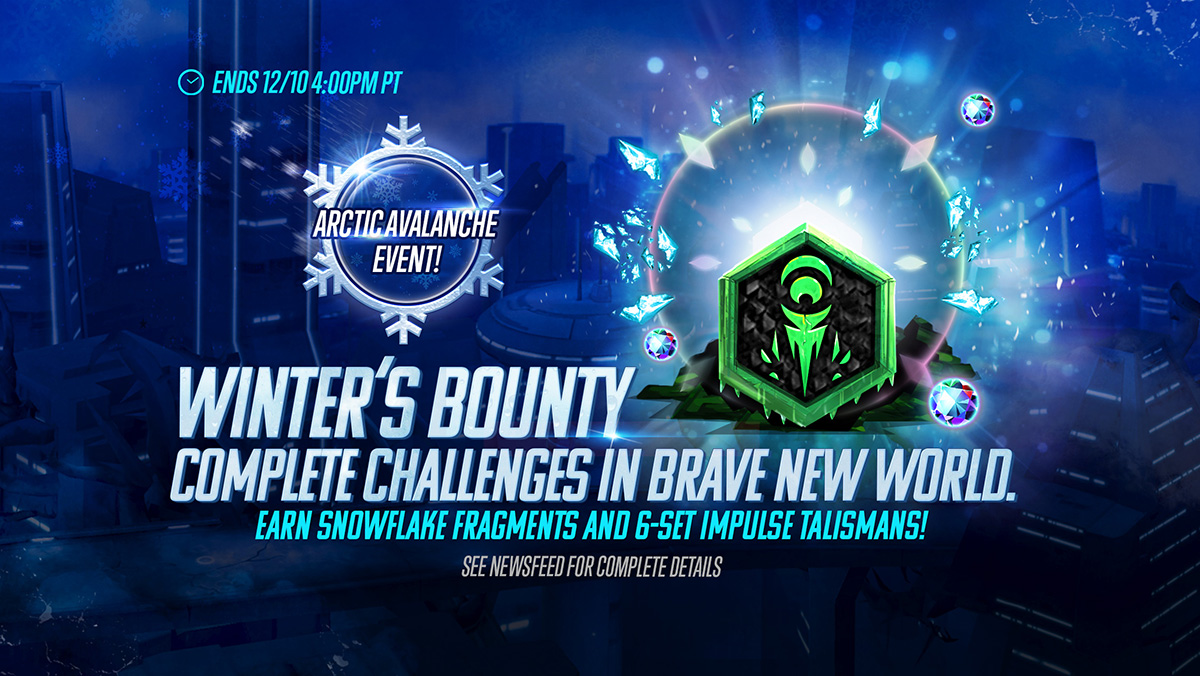 03 Dec

Winter's Bounty – Earn new 6-set Impulse Talismans and Snowflake Fragments!

Battle in Brave New World for rare rewards!

From now until December 10th at 4 PM PT, complete event Challenges in Brave New World to earn Skill Shards, Cosmic Evolution materials, Snowflake Fragments and Impulse Talismans.

Impulse Talismans are green talismans with a 6-set effect. Equip these Talismans to gain the Impulse Passive, This passive allows all allies to deal +25% more damage to all enemies. It will also heal for 15% of your Max HP whenever the talisman wearer takes physical or magic damage. Finally, this passive will remove All Golden Effects and All Shields from enemies, stun all enemies for 2 turns and heal all allies for 100% of your MAX HP when the talisman wearer's health reaches 1 HP.

BONUS: Each battle in the Brave New World dungeons has a chance of dropping Snowflake Fragments. The higher the floor, the more likely you are to receive larger drops!

Snowflake Fragments are the event currency of our overarching Arctic Avalanche event that is running through the holiday season.

Save your Snowflake Fragments to spend in the Event Store on rare rewards including Frontier Coins, Catalyst Souls, Awakening Souls, an exclusive new character and MORE. These shop items will be added into the game on DECEMBER 10TH, so start collecting your fragments now.

You can learn more about the Arctic Avalanche and Snowflake Fragments in our Arctic Avalanche event post here!