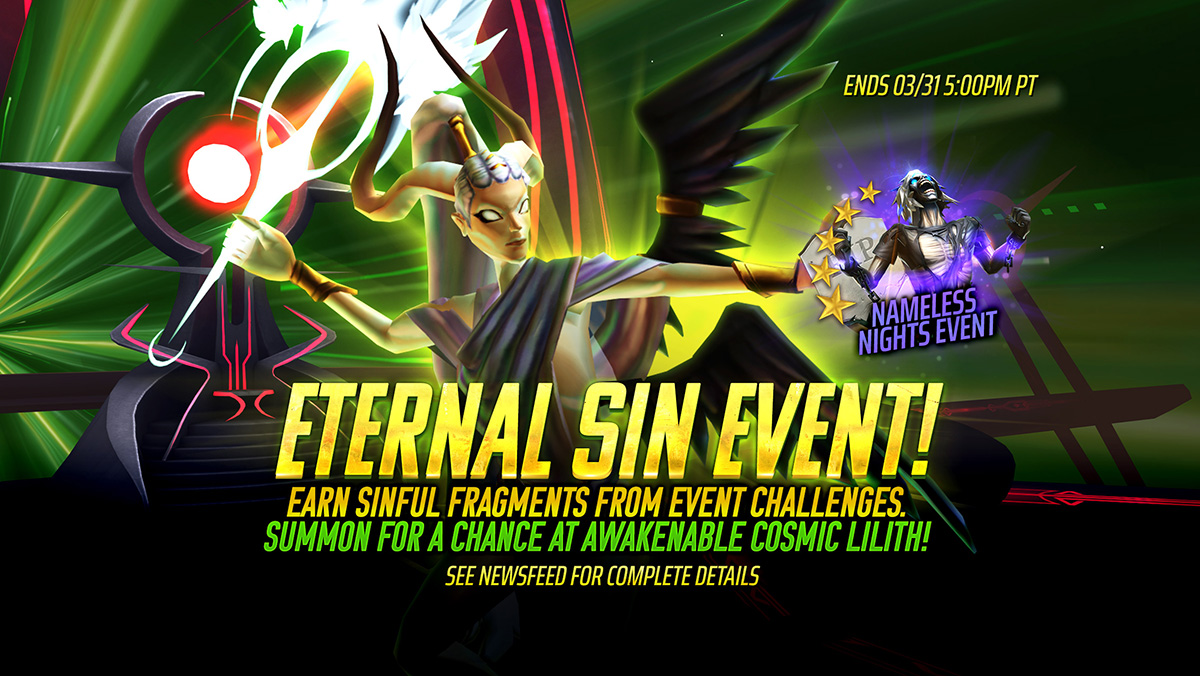 24 Mar

Eternal Sin – Earn Sinful Souls for a chance at Cosmic Lilith!

Earn the new Awakenable Cosmic Lilith!

Cosmic Lilith is a 5★ Awakenable character with 6 colourless Talisman Slots and Class advantage against all opponents. Her passive ability grants immunity to Stun, Taunt and Freeze effects to all allies, and ensures that she will take no more than 5% of her max HP as damage from a single hit. She watches over your team by removing negative effects, and prepares enemies for slaughter by Dooming them, and removing beneficial effects and shields.

From now until March 31st at 5PM PT, each battle in the Lord of Light Dungeons has a chance of dropping Sinful Soul Fragments.

The Sinful Soul is a limited time event soul which guarantees a 3★ to 5★ character of any class. This soul has an increased chance of summoning all classes of Onyx Son, Shardborn, Golden Son, Newborn of Light and Lilith (excluding Dark Lilith). It also has an EXCLUSIVE chance of summoning our latest awakenable character – COSMIC LILITH!

Sinful Souls can be obtained via 3 ways:
Battle in the Lord of Light for a chance of Sinful Fragment drops! Normally, when the fragments drop, you'll earn 5 or 10 fragments, but if you're lucky, you could earn 50 fragments from one battle! Players who battle in Lord of Light Floors 11-15 will also be able to earn greater amounts of Sinful Fragments (10, 20 or 50) at an increased drop rate!
Complete Event Challenges! Getting 200 fragments will earn you a Sinful Soul, with up to 10 Souls that can be earned from challenges over the course of the event.
Get Sinful Souls in store for Ironite in the usual bundle sizes of 1, 3, or 10. Sinful Fragment Booster packs are also available in store!
Sinful Soul Details!
Each Sinful Soul Soul summoned will also grant the following bonus rewards:
10 Dark Wisdom Fragments
25 Lilith Soul Fragments
20 Talisman Gold Red Soul Fragments
Collecting 750 Dark Wisdom Soul Fragments guarantees 1 5★ Cosmic Lilith.
Collecting 500 Lilith Soul Fragments guarantees one 5★ Lilith (Warrior, Magus, Sentinel, Gunner or Assassin)!
400 Talisman Gold Red Soul Fragments guarantees a Tier 1 to Tier 3 Gold or Red Cosmic Talisman and 5★ Gold Idol.
Cosmic Lilith Talismans
Trade your extra Sinful Soul Fragments for T1-T3 Cosmic Lilith Talismans!
The Cosmic Lilith Talisman provides an exclusive bonus when equipped to a Lilith (any class EXCEPT DARK LILITH). This Talisman increases stats in battle, and reduces incoming damage. It will also grant immunity to Doom and Perfect Death to all allies, and will inflict Passive Disable and Physical Burns on a random enemy for 2 turns at the start of your turn and after every action. These talismans also ensure all allies attacks will land with perfect hits.
Eternal Sin event challenges feature a variety of rewards in addition to Sinful Fragments, including Magus Awakening Shards, various Souls, Grimoire Soul Fragments and MORE!
Grimoire Fragments are the event currency of our overarching Nameless Nights event that is running through March.
IMPORTANT: The Eternal Sin Event is the final event in the Nameless Nights series, and your last chance to collect Grimoire Soul Fragments. The items available for Grimoire Fragments in the Mega Store, including Live After Death Eddie will disappear at 5pm PT on April 5th!
You can learn more about this featured event in the Nameless Nights event post here!