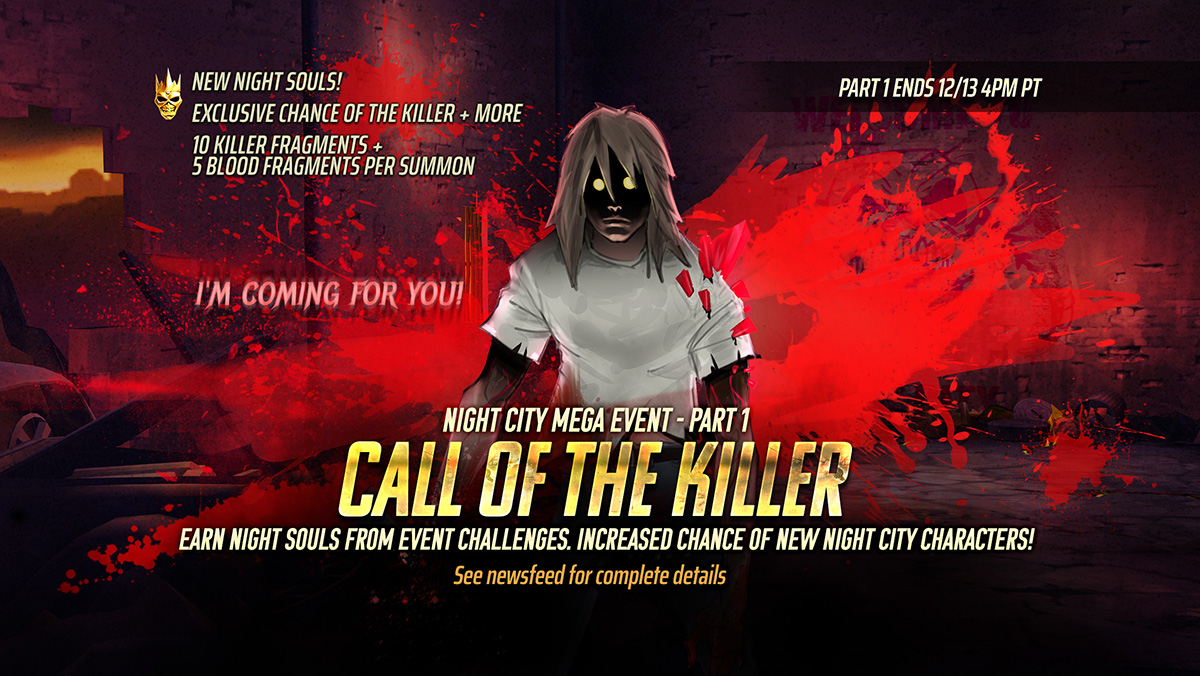 04 Dec

Night City: Call of the Killer on NOW!

Complete event challenges and earn Night Souls for an EXCLUSIVE CHANCE at The Killer and other Night City characters!

The Killer has broken loose and is running rampant through the streets of Night City! This 5* Assassin strikes terror into the heart of his enemies inflicting fear on his opponents every turn while removing immunity effects, inflicting Bleed, Passive Disable, and Destroying their Max HP.

From now until December 13th, 4 PM PT, the Night Soul has become available! The Night Soul is a limited time event soul which guarantees a 3★ to 5★ character of any class, with an increased chance of receiving 7 Night City Characters, and exclusive chance of getting 4 Night City characters, INCLUDING THE KILLER!

Each Night Soul summoned will also grant bonus rewards of 10 Killers Fragments, and 5 Blood Fragments.

Collecting 750 Killers Soul Fragments guarantees The Killer!

Blood Soul Fragments can be used to purchase exclusive items, including debut characters and talismans, in the Specials Store for the duration of the Night City Mega Event. This is a series of events that will be running until the end of the winter.

You can find out more in the Night City Mega-Event post.

Night Souls can be earned in one of three ways:
There are Event Challenges that will grant you Night Soul Fragments. Getting 200 fragments will earn you a Night Soul, with up to 10 Souls that can be earned from challenges over the course of the event. Hold your own in the mean streets of Night City and apply specific abilities to get all of the souls!
Use Blood Fragments to purchase additional Night Soul Fragments from the Specials Store
The store offers Night Souls for Ironite in the usual bundle sizes of 1, 3, or 10.
In addition to Night Soul Fragments, completing event challenges will grant various other rewards, including Ironite, and Frontier Coins!
Night Souls contain the following highlights:
Exclusive Chance of:
The Killer ( 5★ Assassin)
Derby Demon (4★ Magus)
Chopper (4★ Warrior)
Savage Reaper (3★Warrior)
The Killer is ONLY available in the Night Soul. At the conclusion of this event, he will be much more difficult to obtain, as he won't be featured in any other soul.
The Magus Derby Demon, Warrior Chopper and Warrior Savage Reaper are ONLY available in the Night Soul. While these characters will occasionally be featured in Heroic Soul Rotations, they will NOT be added to any other Souls, making the Night Soul your best shot at securing them.
Increased Chance of:
Derby Demon (4★ Sentinel)
Derby Demon (4★ Assassin)
Chopper (4★ Assassin)
Hellraiser (4★ Magus)
Queen's Guard (3★ Warrior)
Demon Officer (3★ Magus)
Trickster (3★ Sentinel)
These 7 Night City characters are also earnable from all other souls that can drop a character of their specific rarity and class.
Please note that after the conclusion of this event, collecting more Night and Killer Soul Fragments will not be possible, but any extras you have can be converted to Precious Soul Fragments.
Blood Soul Fragments will continue to drop throughout the run of the Night City Mega Events (running all winter long). We strongly recommend you hold on to these fragments. Learn more in the Night City Mega-Event thread post.