THE CHARACTER

Take your enemies to Death Punch Therapy! Knucklehead is a great bruiser for not only beating down opponents, but also guarding your team from attacks!
This champion is a great fit on any team needing a bit more oomph to their strategy- punching his way through enemy forces and coming back for more punishment again and again.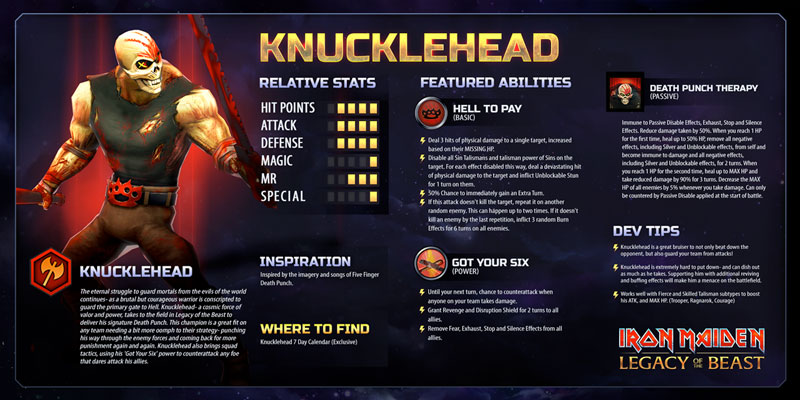 Players were able to earn Knuckehead for free by logging in for 7 days over the course of a month. Take a look at the free calendar below!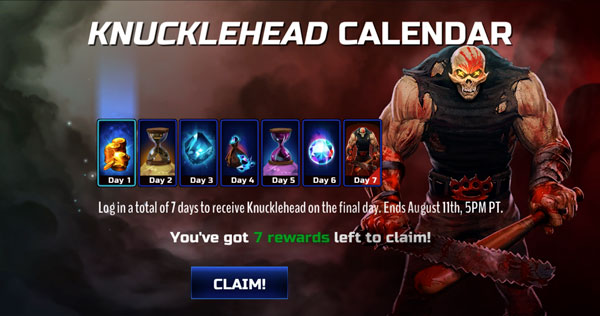 Get free Knucklehead and Magma Beast Eddie wallpapers for your devices here »
THE EVENT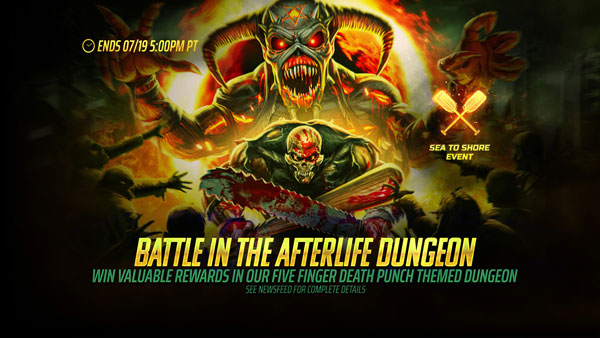 Players got a look at Knucklehead in action during the Afterlife dungeon event. This dungeon was available from July 12th-19th and was inspired by Five Finger Death Punch's upcoming ninth studio album, also title AFTERLIFE & Knucklehead, a familiar face featured on many of their album covers. Knucklehead teams up with Magma Beast Eddie, a scheming denizen of Hell itself, born of fire and darkness. This Eddie was released as a special edition of Beast Eddie, uniquely created for Legacy of the Beast during Iron Maiden's 2019 world tour.
Afterlife featured a Five Finger Death Punch themed script, and 4 difficulty settings with epic rewards. Magma Beast Eddie fights his way through hell with Knucklehead at his side. Can they unite to stop the maelstrom of demons vying to escape!
Visit Five Finger Death Punch website here »
Check Afterlife, the latest album of Five Finger Death Punch »