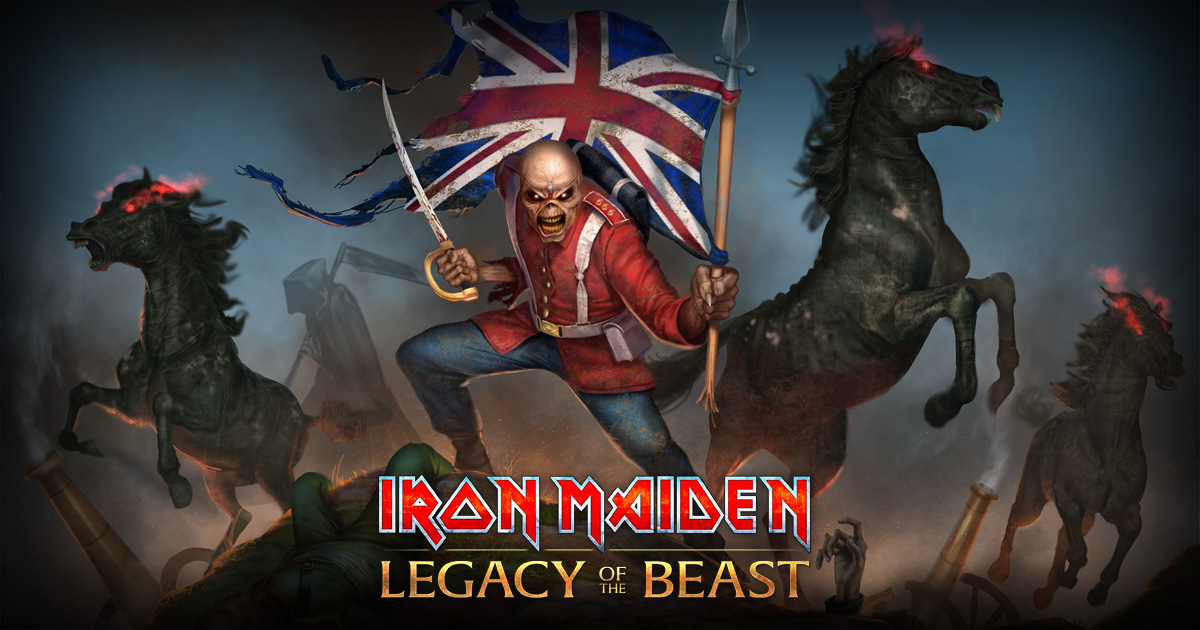 21 Nov

Trooper Eddie has entered the fray!

The bugle sounds…

Trooper Eddie charges into Iron Maiden: Legacy of the Beast!

This furious 5⭐Warrior is available exclusively from the Trooper Soul. The Trooper Soul also contains 3 other battle ready 5⭐characters:
Lady Azov (5⭐Magus) – A single target true damage attacker that heals all allies when she attacks and has a passive that grants Invincibility, Immunity, or Immortality upon taking damage.
Bastion (5⭐Sentinel) – A magic attacker who can stun enemies, provide Accuracy Up and Revenge to allies, is immune to Stun, and can gain Perfect Hit if he has Regen.
Warlord (5⭐Assassin) – A random damage attacker which can automatically remove beneficial effects from enemies each turn if they have more than one and can apply Ghost to enemies.
Start collecting all 4 fierce fighters today! Trooper Souls are a permanent addition to the game, and are earned through use of the Trooper system. Play with your Troopers every day to earn badges. Trade your badges into the Trooper store to claim either:
1 Trooper Soul – ONE TIME OFFER FOR 20,000 TROOPER BADGES
1 Bundle of 10 Trooper Soul Fragments – available for 300 Trooper Badges (limit 5 bundles per week)
200 Trooper Soul Fragments = 1 TROOPER SOUL!
⚔️BONUS! For a limited time, you can also earn Trooper Soul Fragments for Gold, Iron Coins and Ironite in our Troopers Unite event. Get all the event details here!
New Features!
Frontier coins and shop!
Purchase all Eternity and Trooper Soul Characters directly in the Frontier Shop! Not only does the Frontier shop give you a guaranteed way of earning the 5⭐Eternal or Trooper Character you want, it also offers other high value items such as Skill Shard packs and Mythic Souls (guaranteed 5⭐character!)
Items in the Frontier shop are only purchasable with Frontier Coins. Earn 100 Frontier Coins for every Eternity or Trooper Soul opened.
Trooper NPCs!
Ease into the Trooper system with three new NPC Troopers:
Captain: Navigator Eddie champion
Deathcleft: Grim Reaper Eddie champion
Tomahawk: Run to the Hills Eddie champion
All of these Troopers are automatically added to all players' Trooper lists, and become stronger as you achieve certain Player Ranks. These new additions do not count towards your Trooper limit, but can be used like any other Trooper to get an additional 25 Trooper Badges whenever they're used!
Track Skull Quest Progression
Our latest update has also added a "Campaign Tracker" to the Cosmos worlds! This tracker indicates the percentage of Skulls earned for the last-played difficulty in each world.
Earn 100% of the skulls for a world and the progress meter will display a golden frame!
Bug Fixes and Improvements!
In addition to new features and characters, we have also crushed a number of bugs in this update. Some issues solved and improvements include the following:
Fixed an issue where it was possible that the "Missions Completed" and "Achievements Completed" achievements would not have the correct count for current progress
Fixed an issue in Brave New World where combat could hang if an enemy with Endure died due to a miniboss dying
Fixed an issue where Satellite 15 rewards may repeat instead of being randomly chosen for each claimed satellite
Fixed an issue where players could have an attack list of less than 10 opponents
Improved the drop rate of the following talismans: Shell, Immunity, Quake, Zone, Lightning, Comet, Meteor, Rage
Read more about this update, and other bugs we've solved in the LOTB newsfeed: http://m.onelink.me/49d39710