THE CHARACTER
Iron Maiden: Legacy of the Beast wanted a character that would fit perfectly into a story with Mystic Eddie, a fully-fledged seer that can control his visions (based on Maiden's classic track 'The Clairvoyant' from their legendary 'Seventh Son of a Seventh Son' album).
The result of this collaboration is a dungeon entitled 'The Search for the Black Anima' & The Shadow Sorceress, a character influenced by Lacuna Coil's interest in the creative force that comes from the 'shadow side'. This wicked wielder of dark magic harnesses her rage and transforms it into powerful spells.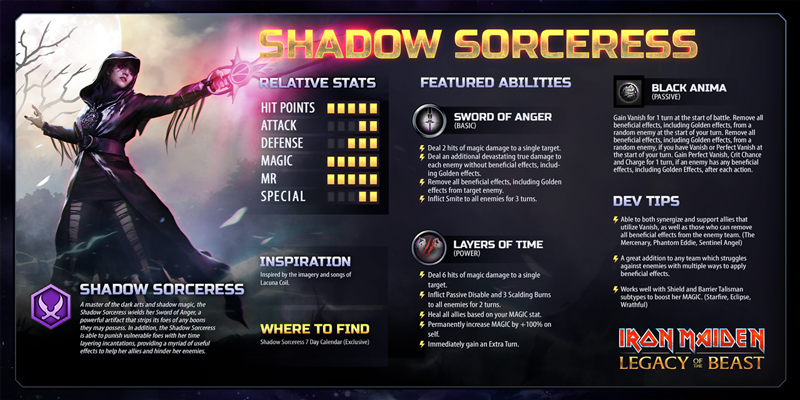 This event also featured 2 character wallpapers! Get Mystic Eddie and Shadow Sorceress Wallpapers here »
OR follow this link to get a wallpaper of the Shadow Sorceress alone »
THE EVENT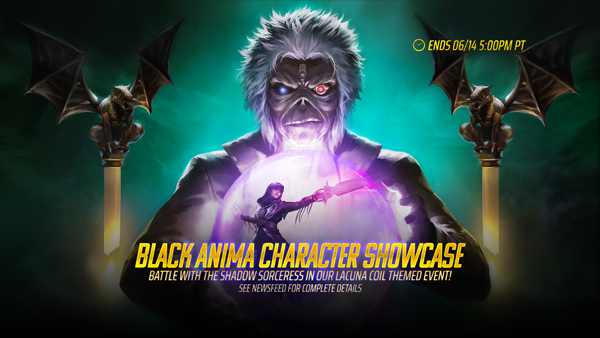 Players got to see the Shadow Sorceress in battle in a character showcase event! This event was accessible for players both new and seasoned, featuring just 1 difficulty setting and a brand new story.
Mystic Eddie leads the Alchemist and the Shadow Sorceress into battle to search for the fabled Black Anima! All 3 characters were permanent companions anytime you battled in that area, leaving you 1 character slot to bring the ally of your choice.
Want to see some of our media coverage for this collaboration? Check out our Press page! »