THE CHARACTER

Papa Emeritus IV rises to power! This former Cardinal is a spell caster who pressures the enemy with his powerful magic and specialized synergy. His passive ability, Life Eternal, anoints his allies, blessing them with increased stats and bestowing a variety of powerful effects.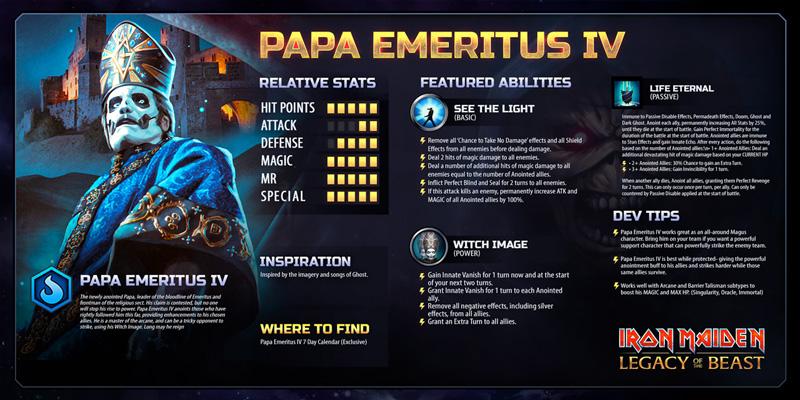 Get free Papa Emeritus IV and Grim Reaper Eddie wallpapers for your devices here »
THE EVENT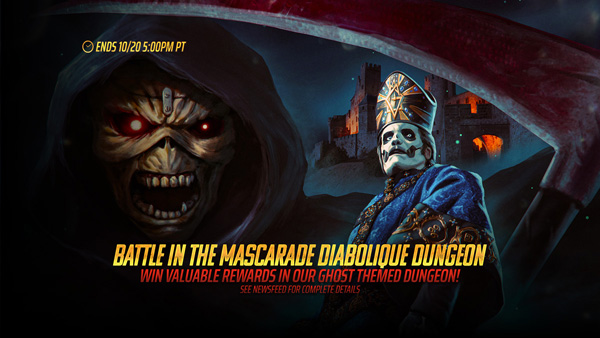 Players got a look at Papa Emeritus VI in action during the Mascarade Diabolique dungeon event. An event created as an ode to both bands' lore taking its broad themes from the cover of Iron Maiden's 2003 album "Dance of Death" and the video for Ghost's 2018 song, 'Dance Macabre,'.
Mascarade Diabolique featured a Ghost themed script, 4 difficulty settings and was packed with valuable rewards! A demonic power has arisen…and it's throwing a party! Grim Reaper Eddie leads the Dancer of Death and Papa Emeritus into battle at a deadly mascarade!
Players earned the Papa Emeritus IV character for FREE starting October 13th by logging in a total of 7 days to receive Papa Emeritus IV on the final day.
Want to see some of our media coverage for this collaboration? Check out our Press page! »